In the world of interior design, the modern farmhouse dining room style has been making waves with its timeless appeal and cozy aesthetics. It's a decor trend that marries the simplicity of rustic farm life with the clean lines and functionality of modern design, creating a unique blend of warmth and sophistication. In this aesthetic, the dining room emerges as the home's heartbeat, a welcoming space where loved ones gather to create treasured memories.
Modern Farmhouse Dining Room Decor
The modern farmhouse dining set theme combines elements such as distressed wood, neutral color palettes, and a mix of rustic and contemporary pieces to craft a warm and inviting space. In this blog, we'll explore the appeal of modern farmhouse decor and provide creative ideas for crafting a welcoming and cozy haven in your dining room.
Rustic Wooden Furniture
Rustic wooden furniture seamlessly complements a farmhouse dining room aesthetic by infusing warmth and character into the space. The raw, natural beauty of rustic wooden furniture complements modern design, creating a harmonious and inviting atmosphere, enhanced by incorporating pieces like a weathered reclaimed wood dining table alongside sleek chairs for a striking contrast.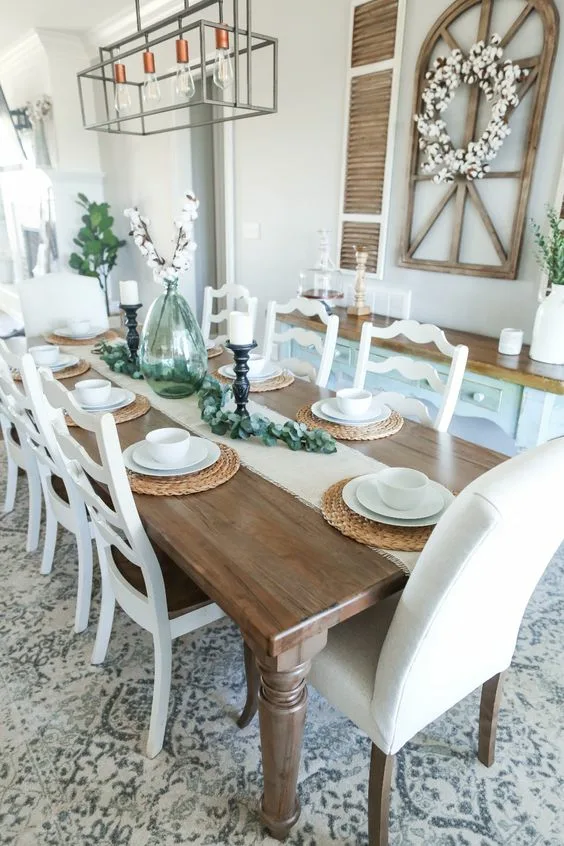 Farmhouse dining kitchen tables
A distressed-finish farmhouse sideboard offers ample storage and rustic charm while embellishing wooden furniture with burlap or linen table runners and wooden chargers enhances the rustic appeal. Mason jar centerpieces with wildflowers, aged candleholders, and vintage-inspired dinnerware or ceramic serving dishes can also bring an old-world charm to your farmhouse dining table.
Vintage Accessories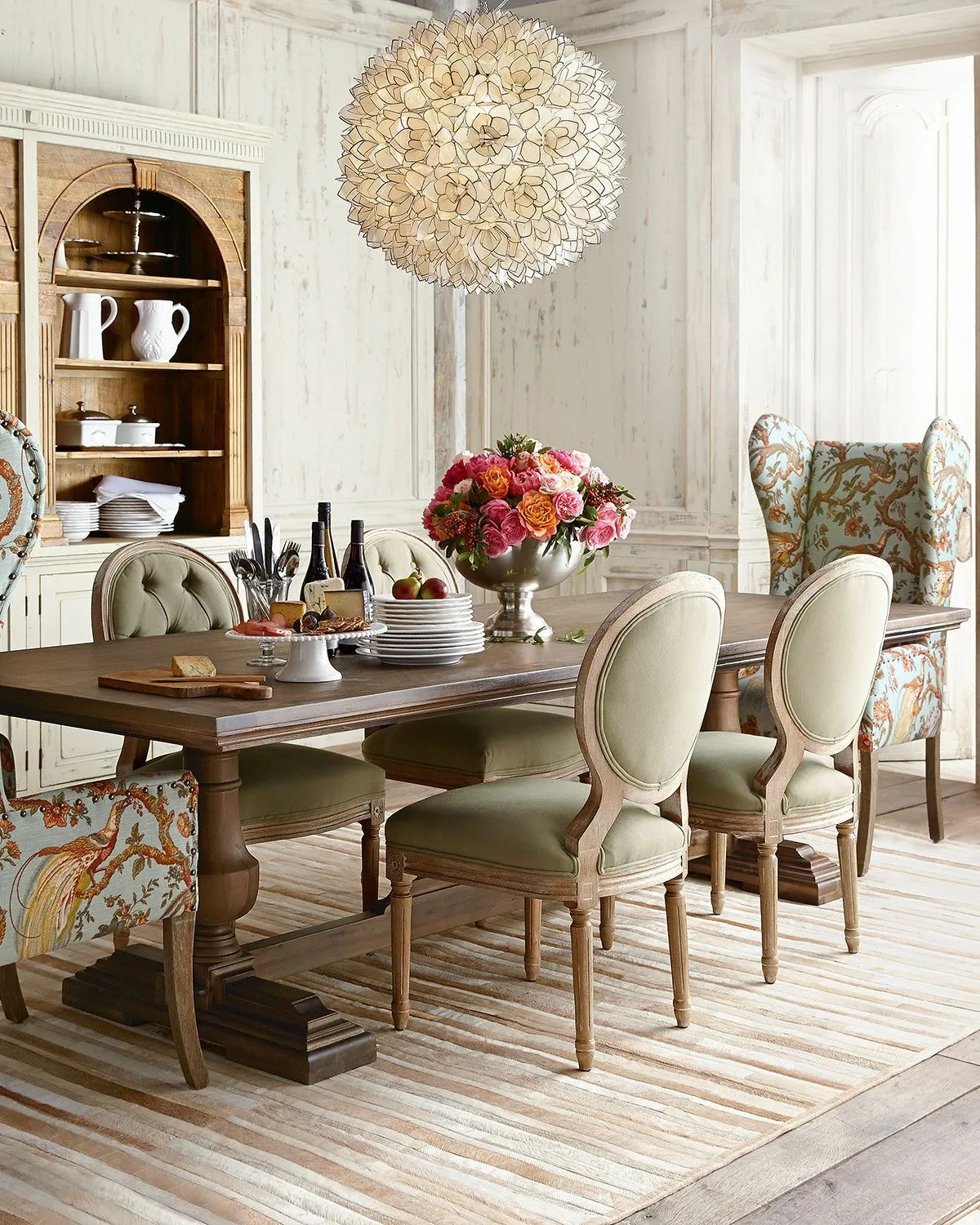 Incorporating antique pieces in a modern farmhouse dining table set adds authenticity and character, infusing a sense of history that beautifully complements the aesthetic. For authenticity, consider including vintage accessories like weathered wooden beams on the ceiling or reclaimed barn wood for flooring, giving the room an instant rustic charm.
Farmhouse modern dining tables
Antique kitchen tables and chairs and repurposed farm tools like an antique milk jug or a vintage wagon wheel as decor pieces evoke nostalgia and seamlessly blend old-world charm with modern farmhouse style.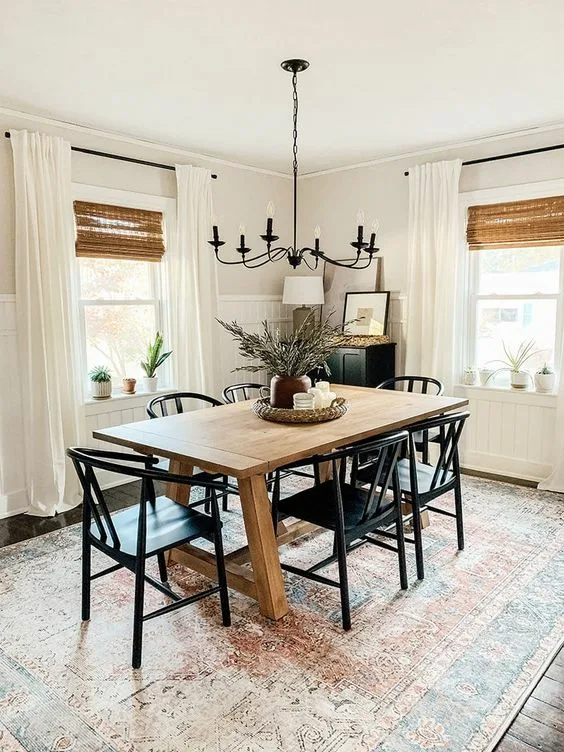 Incorporate vintage farmhouse signs, a time-worn buffet, or antique window frames as decorative elements to infuse a genuinely authentic and welcoming sense of history into your modern farmhouse dining table.
Textured Fabrics
Introducing a variety of fabric textures in your farmhouse dining table can elevate its aesthetic, starting with cozy elements like a linen or burlap table runner to bring in a rustic touch and tactile richness. Start by incorporating comfortable woven or distressed leather upholstered chairs and adding privacy and style with textured curtains made from natural materials like cotton or canvas.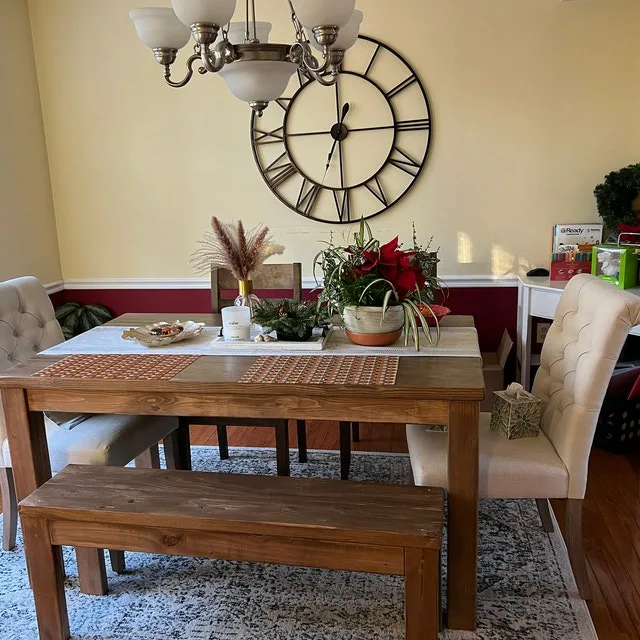 Create a warm and inviting atmosphere by using chunky knit throws on chairs and benches and adding burlap or grain sack accent pillows to your modern farmhouse dining set. Strategically mix fabric textures for a visually appealing and inviting ambiance to your dining room.
Neutral Color Palette
Neutral colors play a pivotal role in farmhouse dining room decor, as they lay the foundation for a timeless, welcoming, and versatile space. Neutral palettes like white, beige, or gray, along with soft sage green, create a versatile backdrop for modern farmhouse decor, seamlessly blending rustic elements with a cozy, sophisticated ambiance in the dining room, enhanced by reclaimed wood fixtures, vintage metal accents, and distressed wooden shelves.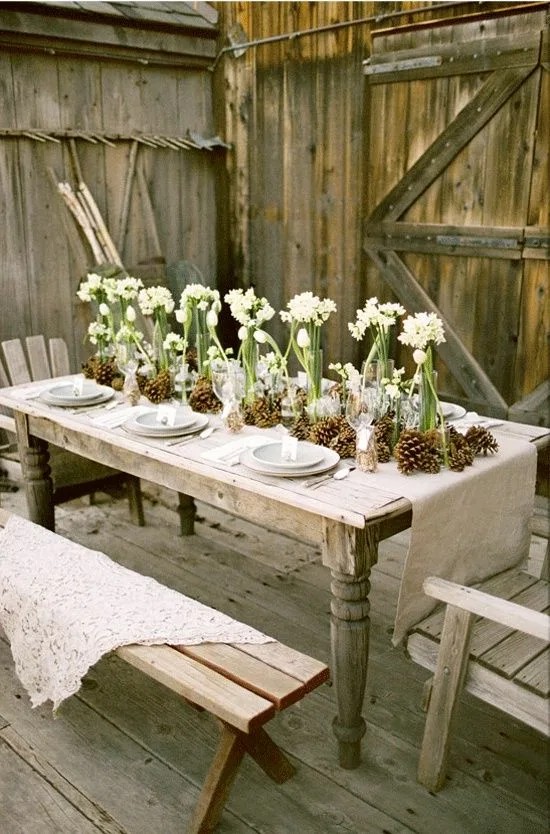 To elevate the charm, consider incorporating earthy, neutral-toned textiles, like linen or burlap curtains, woven placemats, and muted-hued dishware. In the farmhouse dining set, neutrals provide a serene backdrop for layering textures and rustic accents, enabling you to infuse your personal style while preserving an authentic farmhouse aesthetic.
Layered Lighting
Various light sources play a crucial role in crafting a warm and welcoming ambiance in the farmhouse dining room table. Mixing and matching different light fixtures can transform your dining space into a cozy haven. Begin with a rustic statement chandelier above the dining table, complemented by wall sconces for ambient glow, and incorporate practical task lighting with pendant lights above the kitchen island or buffet to enhance farmhouse charm.
Rustic round dining tables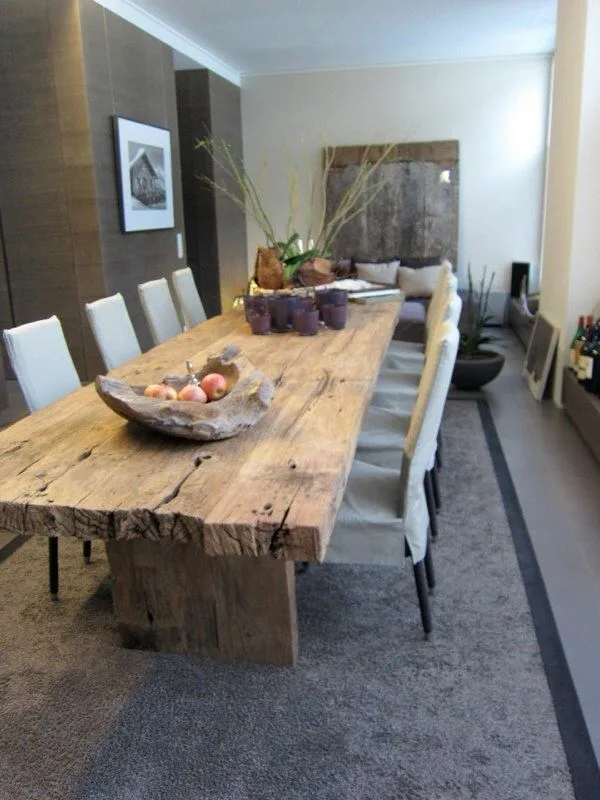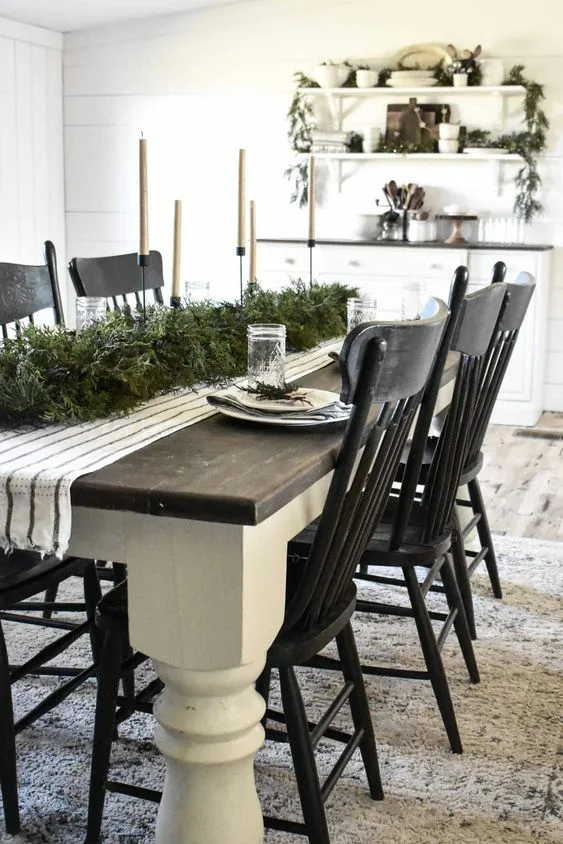 For added warmth, consider table lamps with burlap or linen lampshades. By combining these various light sources, you can achieve a harmonious and welcoming atmosphere in your modern farmhouse dining room, evoking both comfort and style.
Farmhouse Dining Room Decorations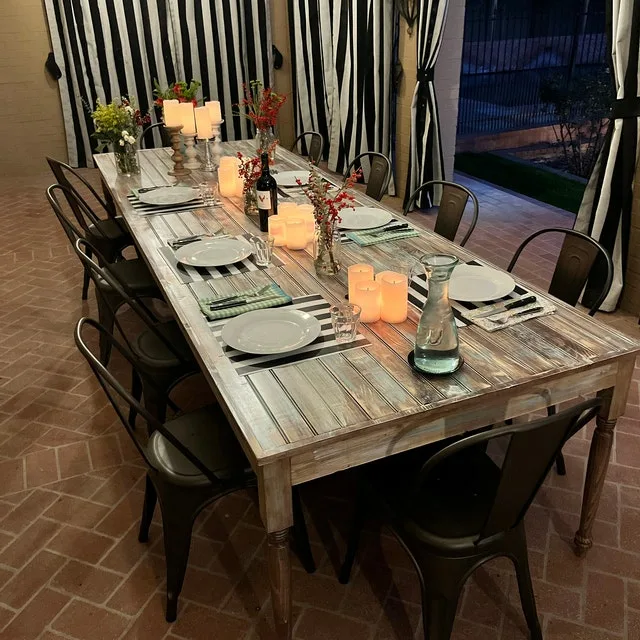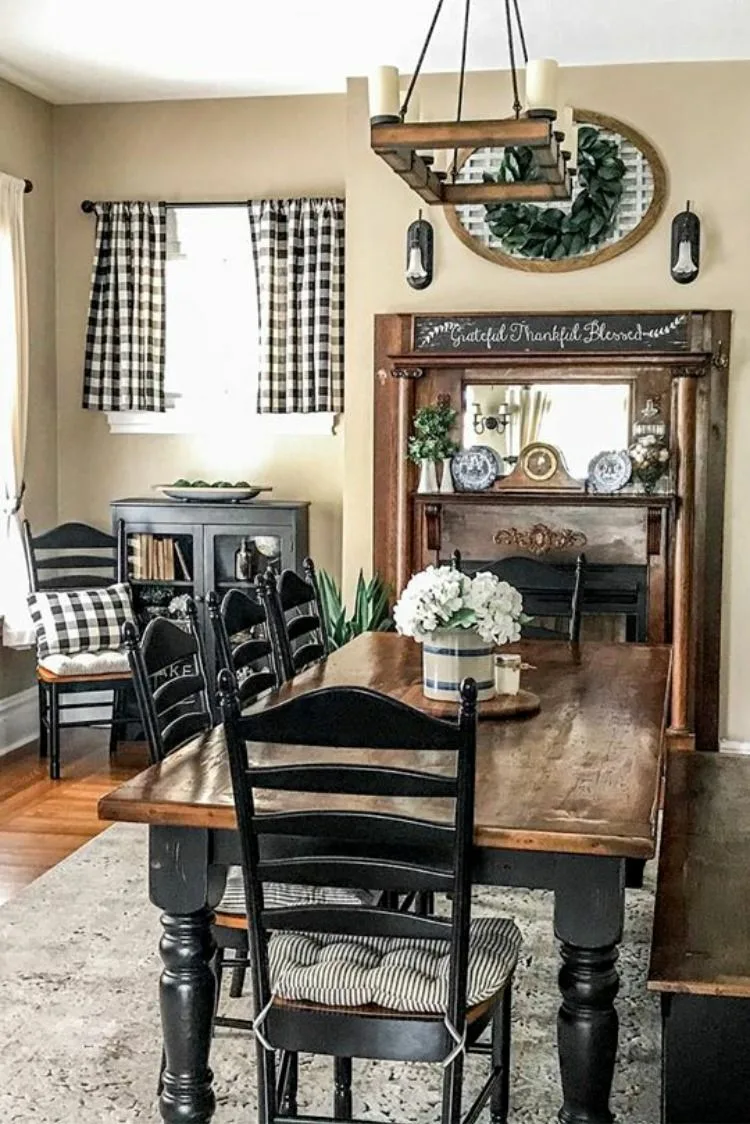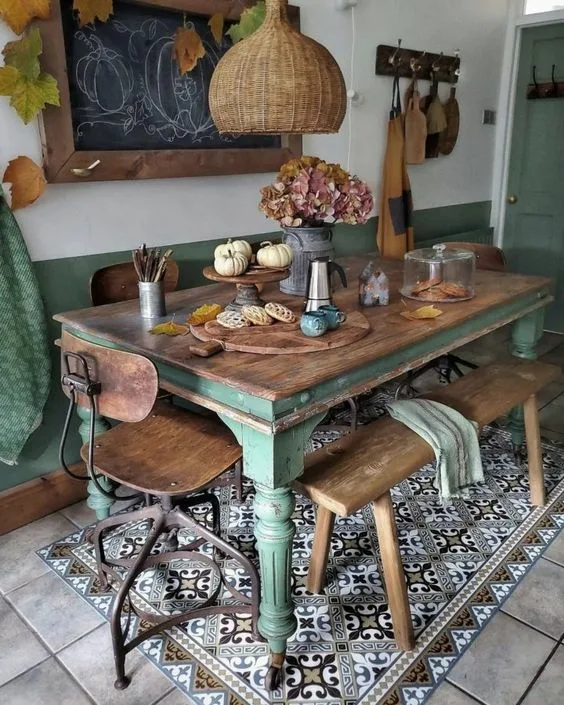 Finally
In conclusion, decorating a modern farmhouse dining room is about balance—mixing rustic elements with modern design. Keep it simple, avoid clutter, and let the natural beauty of wooden furniture shine through. But remember, these are guidelines, not rules. Feel free to experiment and personalize these ideas to suit your taste. After all, your dining room should be a reflection of you—comfortable, inviting, and uniquely yours. Happy decorating!