Gather around, friends! As Thanksgiving approaches, it's time to start thinking about more than just the food. One of the most crucial aspects of the holiday is, of course, the Thanksgiving dinner tables. The way you decorate your table can set the tone for the entire gathering and elevate the dining experience.
Thanksgiving Dinner Table Setting Ideas
So today, we're going to share five creative ideas that will inspire you to create sensational Thanksgiving centerpieces and festive table arrangements. At the end of this post, you're going to realize the importance of a beautifully decorated Thanksgiving table. Now, get ready to set your tables with inspiring elements to delight your guests!
Natural Elements
Who says you have to break the bank to put up beautiful Thanksgiving dinner tables? Incorporating natural elements like fall leaves, pinecones, and pumpkins can produce a rustic, warm feel to the gathering. Plus, it's an affordable way to bring the beauty of the season to your setting.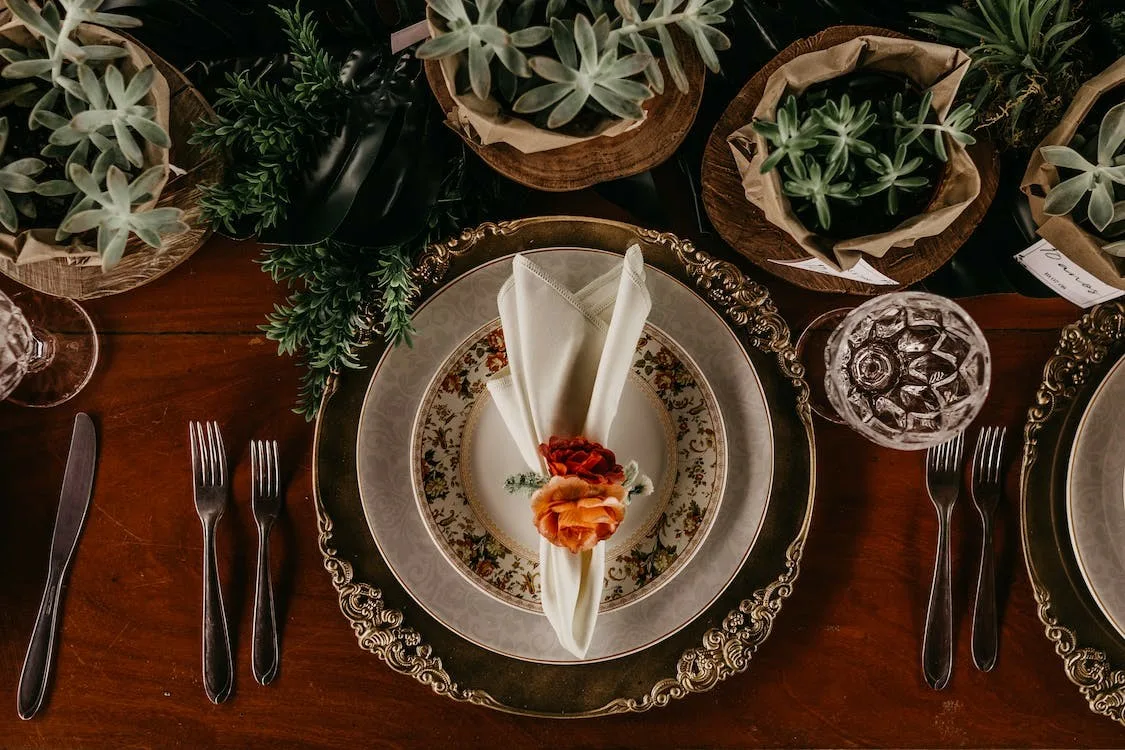 Harvest-inspired table decor draws on the pristine colors and characteristics of the autumn harvest. This can include pleasant, earthy tones like browns, oranges, yellows, and natural elements like pumpkins, gourds, and fall leaves. Woodland-inspired table decor is a trend that takes inspiration from the genuine beauty of the forest. Decorations such as moss, branches, and pinecones can be infused, alongside woodland animals like deer and owls. Lastly, earthy table decor is a style that weaves in pure, organic components to create an inviting mood. Details in the style of wood, stone, raw fibers, and earthy hues like browns, greens, and neutrals can be used. These are just a few ways to tie everything together.
A nature-inspired color palette and greenery and florals are also excellent choices to complement natural elements. Prepare to search for the perfect Thanksgiving table ornaments that showcase your innovative taste and surprise your guests!
Metallic Accents
Give your Thanksgiving dinner tables an upscale vibe by adding metallic accents to your embellishments, as it can mix in a touch of elegance and sophistication to any Thanksgiving ambiance.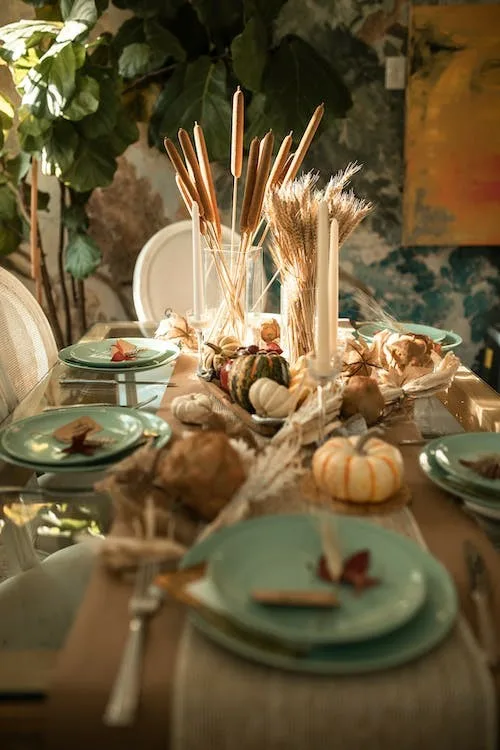 Lustrous charger plates are decorative pieces that are placed underneath dinner plates to integrate an extra layer of glamour into a table arrangement. Choose from a variety of gold or silver metallic plates, with different designs and textures, to append distinction to the scene. Another way to add a trendy element to your Thanksgiving table is by spray-painting your pumpkins with gold paint. Give pumpkins an upgrade with metallic spray paint and turn them into striking focal points for your table setting. The process is simple and can be done at home with just a few supplies.
These metallic Thanksgiving decor ideas are guaranteed to dazzle your guests and make a noteworthy celebration. So don't be afraid to add copper and gold accents to your Thanksgiving tablescape!
Mix-and-Match Tableware
Mixing and matching diverse pieces can establish a fun and eclectic demeanor for your Thanksgiving dinner tables. For one, you can experiment with blending antique and contemporary dinnerware to achieve a mix-and-match look that evokes feelings of nostalgia. You can also get inventive with napkins, using a mix of numerous patterns such as stripes, polka dots, and solids to enhance the texture of your table. Furthermore, explore layering plates of various sizes or hues to enrich the depth and dimension of your table layout or combine multiple types of serving dishes, particularly, utilizing a wooden cheese board alongside a modern ceramic platter. Lastly, try to mix and match glassware, like using colorful goblets or stemless wine glasses.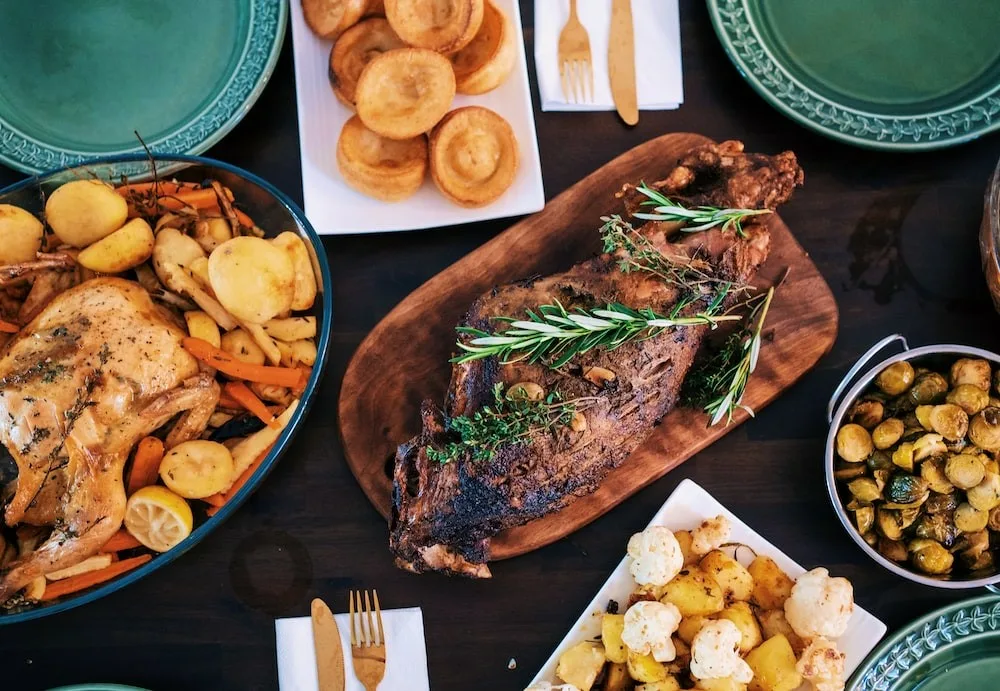 Put together a cohesive look by combining different shades of the same color, building up distinctive shapes, and applying patterns that balance each other. There's no limit to what you can do when it comes to mixing and matching tableware for your Thanksgiving dinner tables, so let your imagination run wild and have fun with it!
Candlelight
Candles are a classic way to infuse warmth and coziness to the Thanksgiving table. The flickering light and gentle glow of candles can produce a magical aura that will make your guests feel right at home.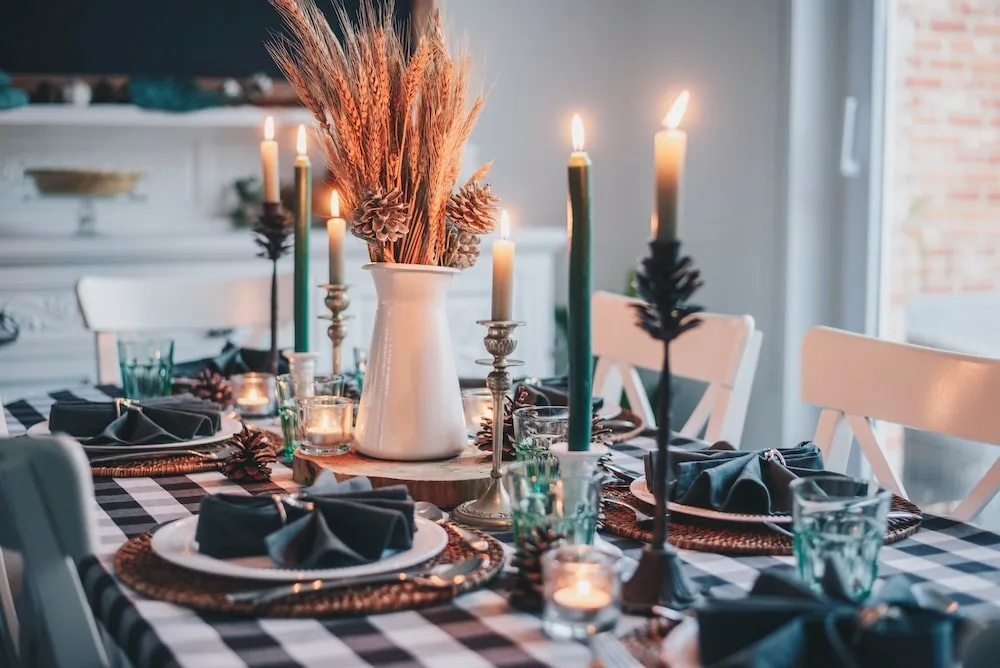 There are plenty of innovative ways to incorporate candles into your table decorations, such as making use of classic silver or modern gold candlesticks is a great way to generate a festive atmosphere and embed a touch of refinement in your table. One more approach is to place tea lights in mini pumpkins. Simply carve out a small hole in a mini pumpkin and place a tea light inside for a charming centerpiece.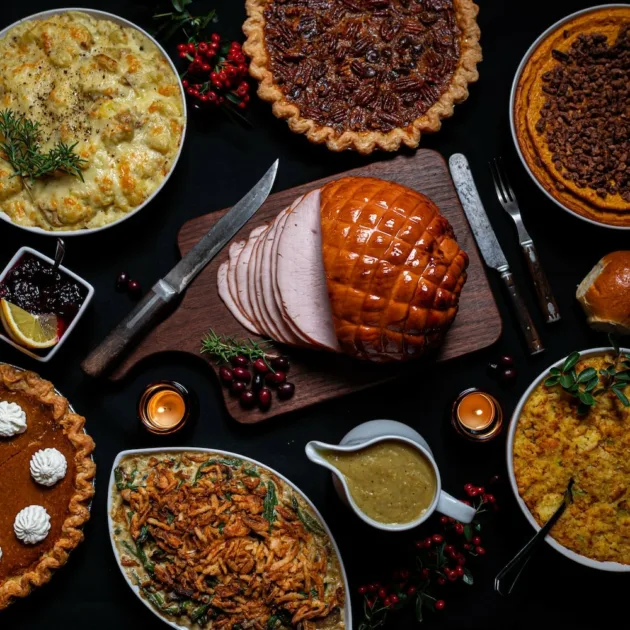 Yet another option is to mix and match candle holders with various sizes, shapes, and styles, to set up a unique and eclectic display. For example, you could use a mix of votive holders, pillar holders, and candlesticks, in different heights and finishes, to enrich striking features to your Thanks-giving adornments.
Whatever your candle preference may be, adding candles to your Thanksgiving dinner table is sure to make it feel extra special and memorable.
Bold Florals
Bold florals can be a stunning inclusion to your Thanksgiving setting, creating vibrant and eye-catching surroundings. Installing a large floral centerpiece can be a focal point and it is achieved with various flowers and hues to suit the theme. It can be complemented with smaller floral arrangements or other adornments for a harmonious vibe.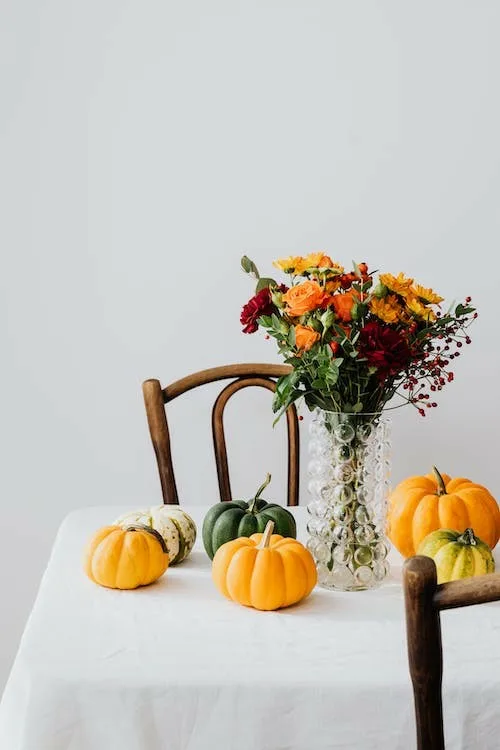 Don't forget about the single blooms or small bouquets as they add a pop of color and a touch of luxury to each atmosphere while keeping the overall design consistent. Bold and bright florals can blend in with your tableware, candles, and other decorations for a lively and cheerful atmosphere for your holiday celebration.
Conclusion
No matter your preferred style, incorporating bold florals can implant a unique flair to your gathering. So don't be afraid to play with contrasting colors and textures when using bold florals in your Thanksgiving dinner table decor.
Wow, we have certainly covered a lot of ground with these creative Thanksgiving table decor ideas! From bold florals to rustic elements and candles, there are so many ways to instill a jovial mood on your Thanks-giving dinner table. Now, it's time to get crafty and conceptualize a one-of-a-kind Thanksgiving table arrangement this year! Use these ideas as a springboard to outline and arrange your Thanksgiving table and make it a standout event for you and your loved ones!