Step into a world of elegance and opulence as we dive into the craft of setting up luxurious wedding dinner tables for your big day. When it comes to creating a memorable wedding event, every detail counts. We're here to guide you through the process of transforming your wedding dinner tables into breathtaking works of art.
Luxurious Wedding Dinner Tables
Buckle up as we look into wedding table decor, where each element contributes to an elegant dining experience like no other. Let's take the plunge and uncover the key to setting up your dinner table for the wedding in a way that exudes style, sophistication, and pure indulgence. Your unforgettable and prestigious wedding dining setup awaits.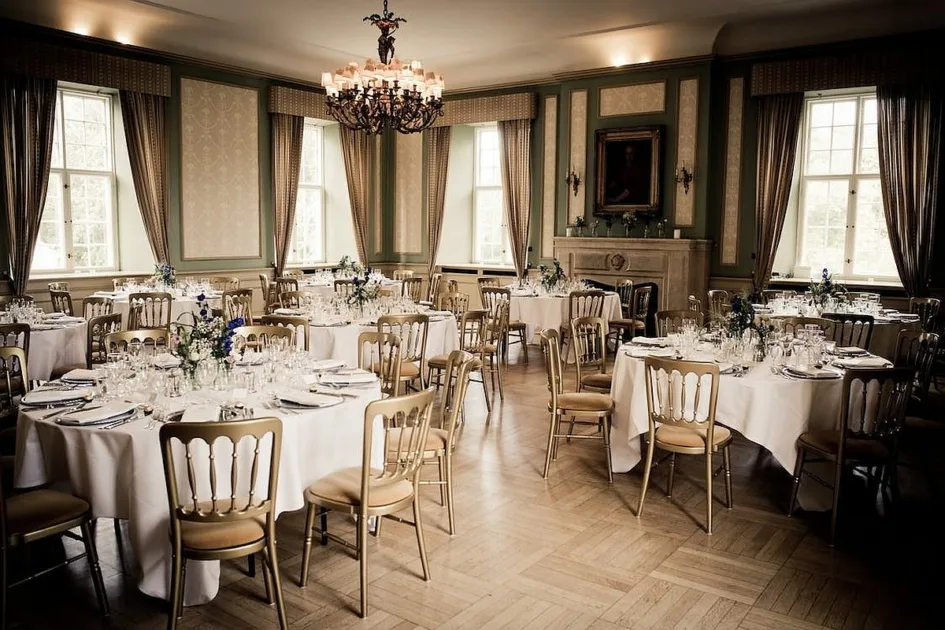 Selecting the Right Tables
Get all set for an exhilarating quest in search of the perfect wedding dining tables! Picture rustic wooden tables for a whimsical garden function or sleek and modern tables for a glamorous city soirée. Consider the practical side and think about the size and layout of your venue to ensure the tables fit flawlessly. Also, take into account space limitations and architectural features.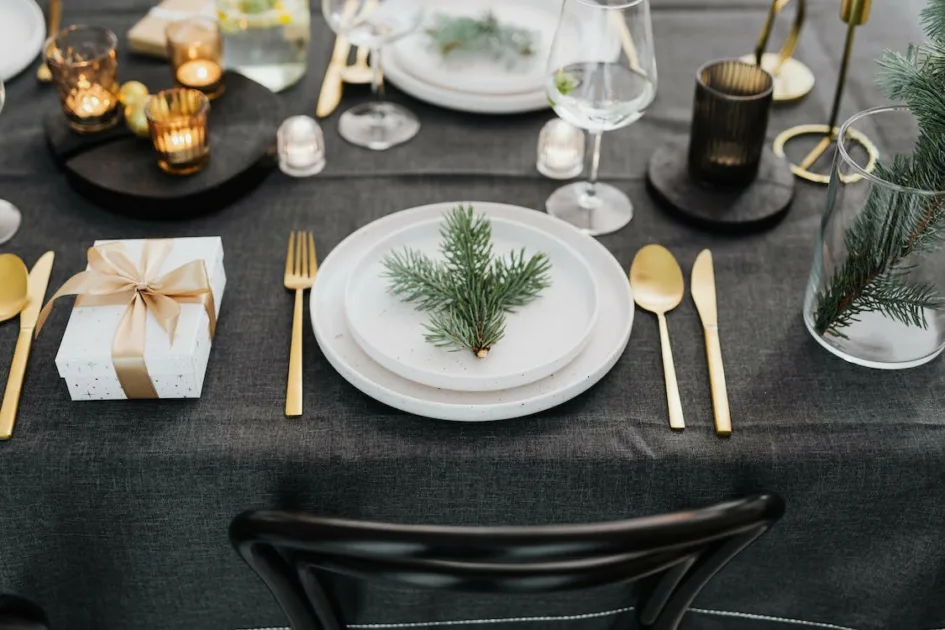 Let's break away from the traditional rectangular tables and survey other options. Round, oval, square, or uniquely shaped tables can create alluring setups. Mix and match different shapes, experiment with configurations like banquet-style or sweetheart tables, and give reign to your creative vision.
Personalize your wedding tables to align with your theme. Finding the ideal table is like discovering the missing puzzle piece for your picture-perfect scene. Let your tables tell your love story and make lifelong memories. Let the table-hunting adventure commence!
Linens and Tablecloths
Brace yourself for an enthralling journey into the realm of lavish linens and tablecloths for your dining tables! When it comes to linens and tablecloths, quality is everything. Choose sumptuous satin and fine linen to dress your tables and envision your guests running their fingers over the intricate lace or being captivated by the subtle shimmer of sequins. These thoughtful touches will make your tables the epitome of refined luxury, configuring the most suitable vibe for your reception.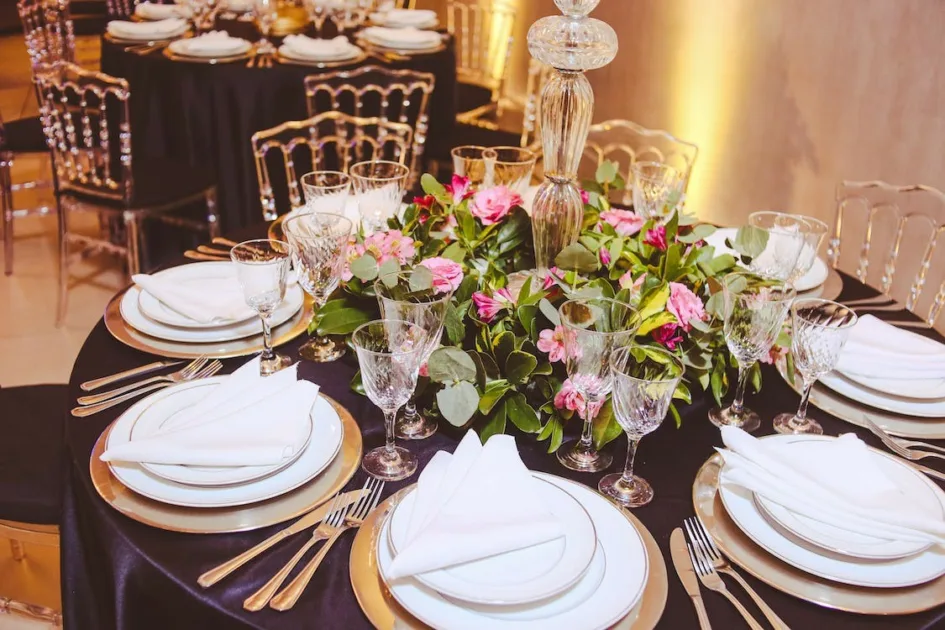 Let your creative soul sparkle as you coordinate colors and textures with your wedding motif. Whether you're dreaming of soft pastels for a romantic garden affair or rich jewel tones for a classy feast, the right choices will turn your tables into a masterpiece. Don't forget to add eccentric components like dainty lace or shimmering sequins that will transform your linens and tablecloths into stunning artistic marvels.
Explore uncharted territories as you establish the tables of your dreams, where luxury and love intertwine. Your wedding dinner tables will become a canvas that impresses your attendees and generates cherished moments that will last a lifetime. It's time to let those tables shine with true radiance!
Centerpieces and Decorations
Gear up for a showstopping presentation of centerpieces and decorations for your dining tables for weddings. Let's start with the star of the show – floral centerpieces. Imagine lush blooms and vibrant greenery arranged in beautiful harmony, capturing your wedding theme. Towering arrangements or delicate clusters, unleash your resourcefulness without limits!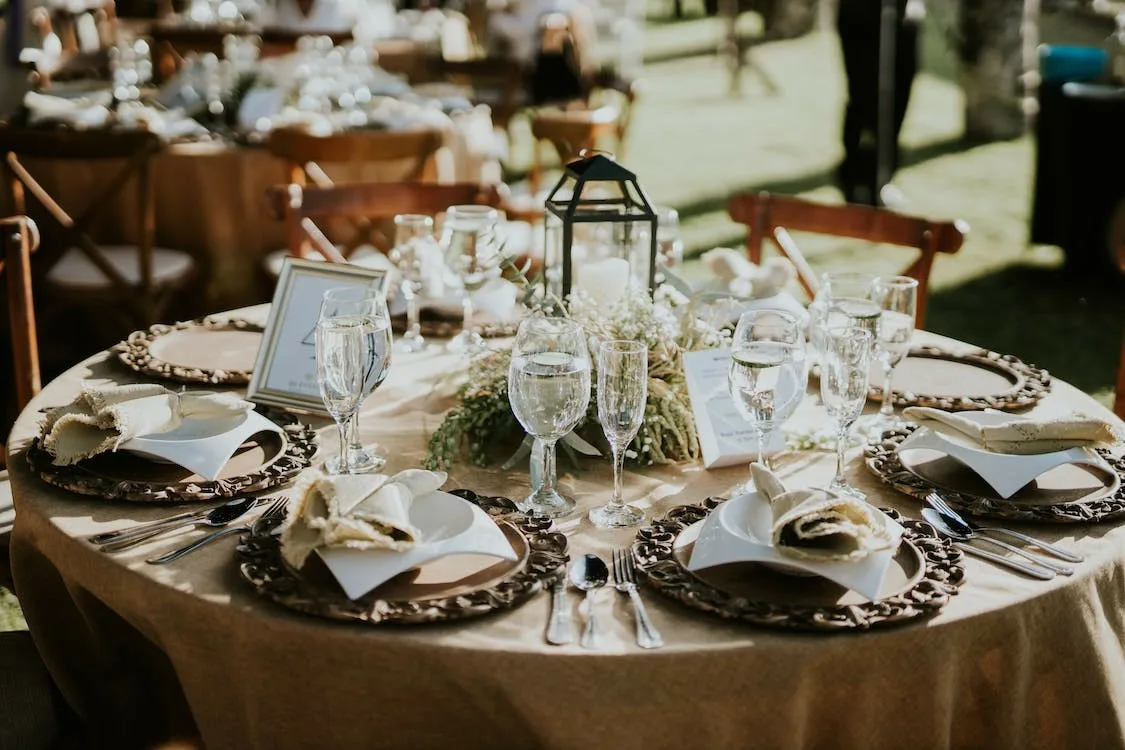 Candlelit centerpieces add enchantment to your tables. Visualize flickering flames casting a warm glow, developing an amorous atmosphere. Elevate the ambiance with ambient lighting, bathing your tables in an ethereal glow. You can also personalize your décor and incorporate sentimental items, tailored signs, or handmade place cards. Infuse your tables with exclusive features that craft eventful moments of your wedding day.
Let the voyage of creating captivating centerpieces and decorations begin! Steal the spotlight with striking designs, embrace candlelit allure, and let your originality radiate. Get ready for a magical celebration of love that will leave everyone spellbound!
Place Settings and Tableware
Get ready to take your wedding tables to another dimension with exquisite place settings and tableware! Starting with the tableware, let's suppose fragile fine China, sparkling crystal glasses, and gleaming silverware adorning your tables. These extravagant choices set the stage for a fancy dining experience, producing a visual feast that delights the senses.
Now, let's move on to coordinating napkins, placemats, and charger plates to add a layer of class to your table layout. Choose napkins with patterns and prints that complement your overall aesthetic. Select placemats that enhance the beauty of your tableware, from minimalist designs to elaborate textures. And don't forget the charger plates, which add a touch of glamour to the table setup. When everything comes together in perfect harmony, your table will emanate a fascinating allure that will impact your visitors.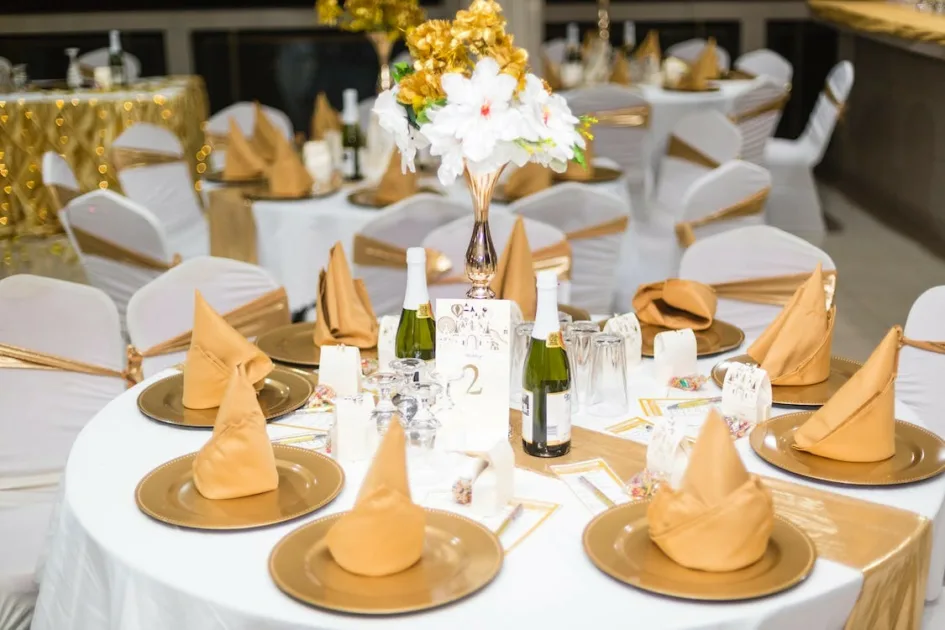 Let's embark on this joyful journey of forming remarkable place settings and tableware for your dinner tables. Let the fascination unfold as you create a table placement that will be remembered for its splendor and appeal.
Chair Decorations and Seating Arrangements
Oh, the magic of chair decorations and seating arrangements! Get ready to take your dinner tables for wedding to new heights of refinement and delight. First on our list are the chair covers and sashes that instantly uplift the elegance of your seating. Behold chairs dressed in magnificent covers that display grace or adorned with stylish sashes that add a pop of color and personality. These ornamental elements turn ordinary chairs into stunning focal points, enhancing the comprehensive look of your dinner tables.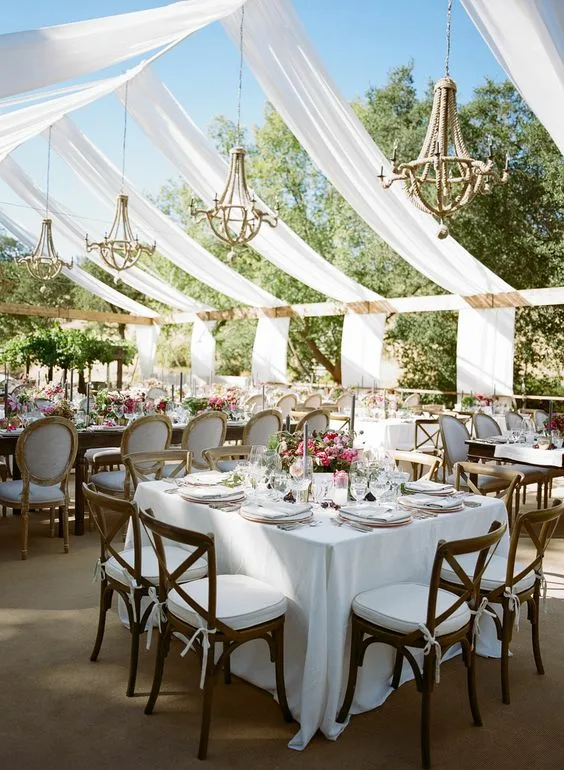 But it's not just about the look; you also want everyone to feel cozy and engaged. That's where the importance of seating arrangements comes into play. Designing a plan that promotes conversation and comfort is like building a symphony of connection and relaxation. Consider grouping guests who know each other well or have shared interests, so they can immerse in lively discussions.
With decorative chair components and well-designed seating arrangements, your wedding tables will be a vision of charm and pleasure. Get ready to form memories that will endure the ages!
And so, we reach the grand finale of our wedding planning adventure – composing the most luxurious dinner tables for wedding that will leave a distinctive mark on your guests. Grasp the art of the deluxe table setting. Remember to prioritize your taste and preferences, infusing your exceptional taste into each detail. After all, it's your special day, and your dining tables should reflect your love story in all its splendor.
Conclusion
Design an enchanting ambiance, where every aspect breathes grace and sophistication. Allow the scene to transport your loved ones to a sphere of wonder and delight, where they can indulge in delectable cuisine and jubilant conversations. Happy planning, and here's to a future as bright as the stars in the sky!