If you're looking to transform your dining space into a realm of elegance and sophistication, look no further than glass top dining tables. Their transparent charm can revitalize your space, making it feel more open and inviting. Imagine dining on a table that not only serves its purpose but also adds a touch of class to your space.
But, with all the options, how do you choose the right table for your home? In this guide, we will take you on a journey through the looking glass, helping you decide about glass top dining tables.
The Beauty of Glass Tops
Glass top dining tables are known for their timeless beauty. They exude an air of sophistication that effortlessly complements any decor and the glass surface reflects light, creating a sense of openness and spaciousness, making your dining area feel more inviting. The play of light on a glass surface can be downright mesmerizing. The effects are breathtaking, whether it's catching the morning sun's rays or reflecting the warm glow of evening candlelight.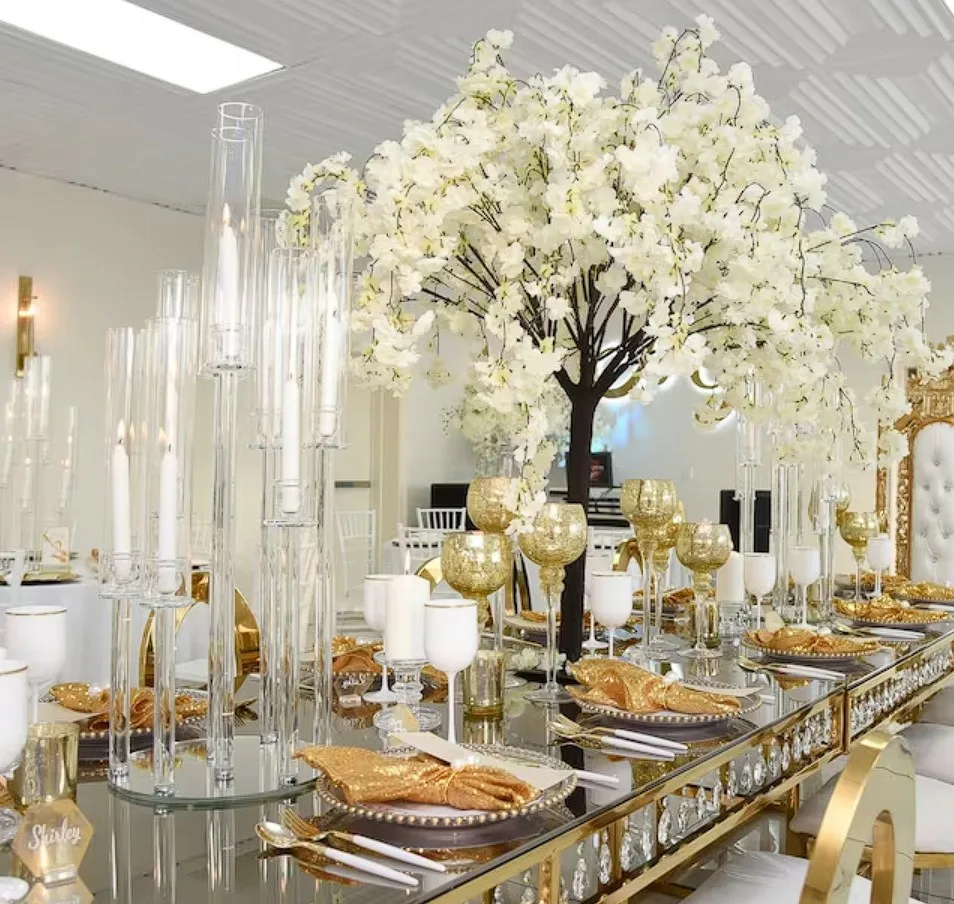 The Advantages of Glass Top Dining Tables
One of the primary advantages of glass top tables is their transparency. They have a unique ability to reflect and refract light, adding a touch of magic to your dining experience and the see-through nature of the material allows the underlying beauty of the table's base to shine through. As the daylight dances on the glass, it creates a dynamic play of shadows and highlights. If you have a smaller dining area, a glass table can make small spaces appear larger. The reflective surface visually expands your dining area, making it an ideal choice for apartments or cozy dining nooks.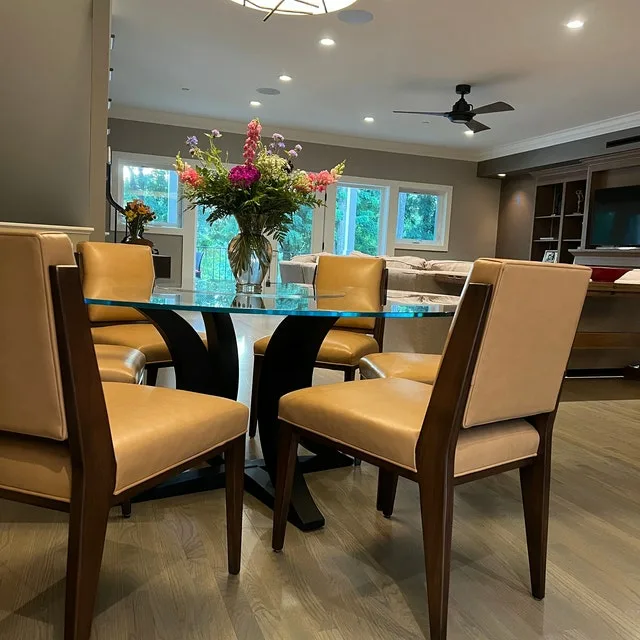 Glass tops are remarkably versatile as they complement various interior styles and can seamlessly blend them with any decor, whether you prefer a modern, classic, industrial, or eclectic look. Lastly, glass is a breeze to clean, and it resists stains, which means less time fussing over maintenance and more time enjoying your meals. Their non-porous surface is resistant to stains and spills, making them an excellent choice for families and anyone who loves to entertain.
Types of Glass Top Dining Tables
Glass top dining tables come in a variety of styles and configurations. Tempered glass is strong and shatter-resistant. Frosted glass adds an air of elegance with its matte finish. Clear glass exudes timeless charm. Annealed glass, while more delicate, can be a canvas for intricate designs. Each type has its unique character, inviting you to craft a table that perfectly suits your style.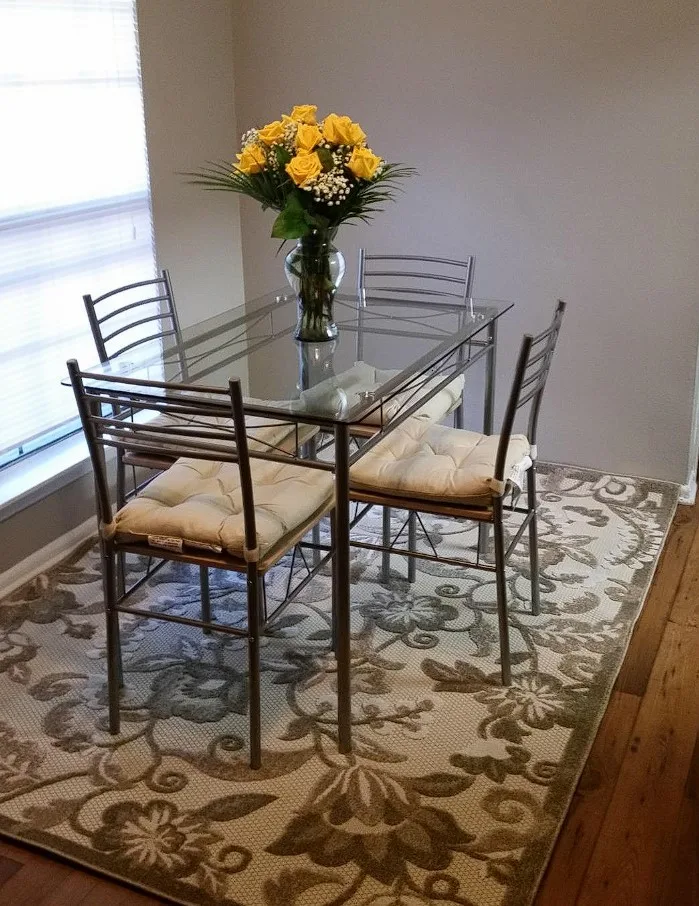 Your choice of base material breathes life into your dining table. Wood exudes timeless warmth and character, and when you combine it with glass tops it blends classic charm with a touch of contemporary. It's durable and versatile but may require more maintenance. While the fusion of glass and metal creates a sleek, modern look. It's durable and easy to clean. Concrete adds an industrial edge, and when paired with glass tops, exudes an industrial vibe. It's sturdy but can be heavy and challenging to move.
Glass thickness is the invisible underpinning of style and durability. 6mm: Light and delicate, perfect for minimalist lovers. 8mm: A balance of elegance and strength for most settings. 10mm: Striking, ideal for high-traffic spaces or statement pieces. 12mm and above: A robust choice, perfect for large tables or those seeking a bold presence.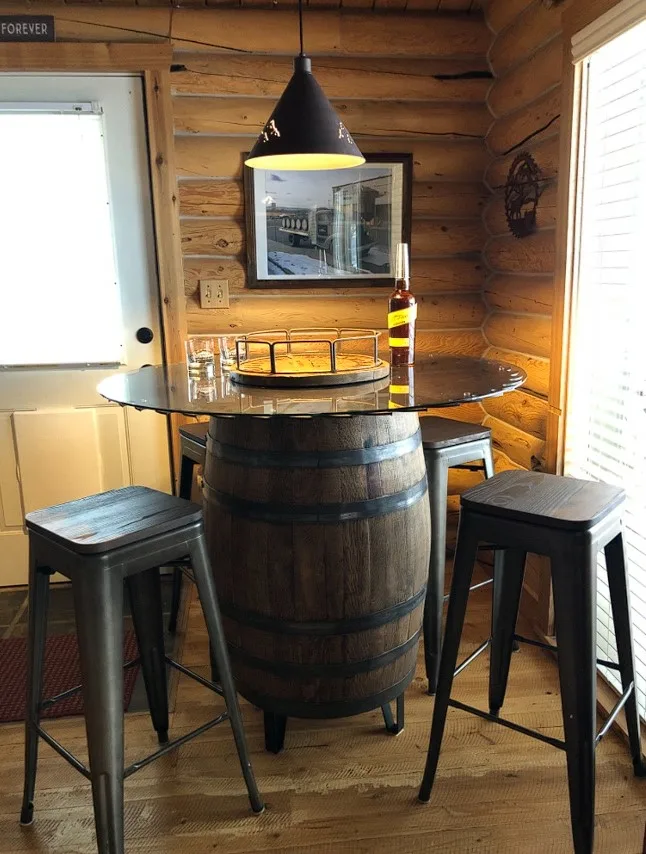 With glass tops, customization knows no bounds. Round, rectangular, oval, or even a shape that's uniquely yours – the power is in your hands. Go beyond standard sizes; tailor it to your space and style. Whether you favor symmetry, curves, or something entirely one-of-a-kind, your glass top table will reflect your personal touch.
Matching Glass Tops with Dining Room Styles
When choosing glass top dining tables, consider your existing decor. These tables seamlessly integrate into modern and contemporary spaces, offering a sleek and minimalistic look. Believe it or not, glass tops can also be the perfect addition to a classic and traditional dining room, creating a captivating contrast. For those who lean toward industrial or minimalist aesthetics, glass tables add an element of refinement and simplicity. Glass top tables can act as versatile centerpieces that bridge the gap between various decor styles, making them a fantastic choice for eclectic or transitional interiors.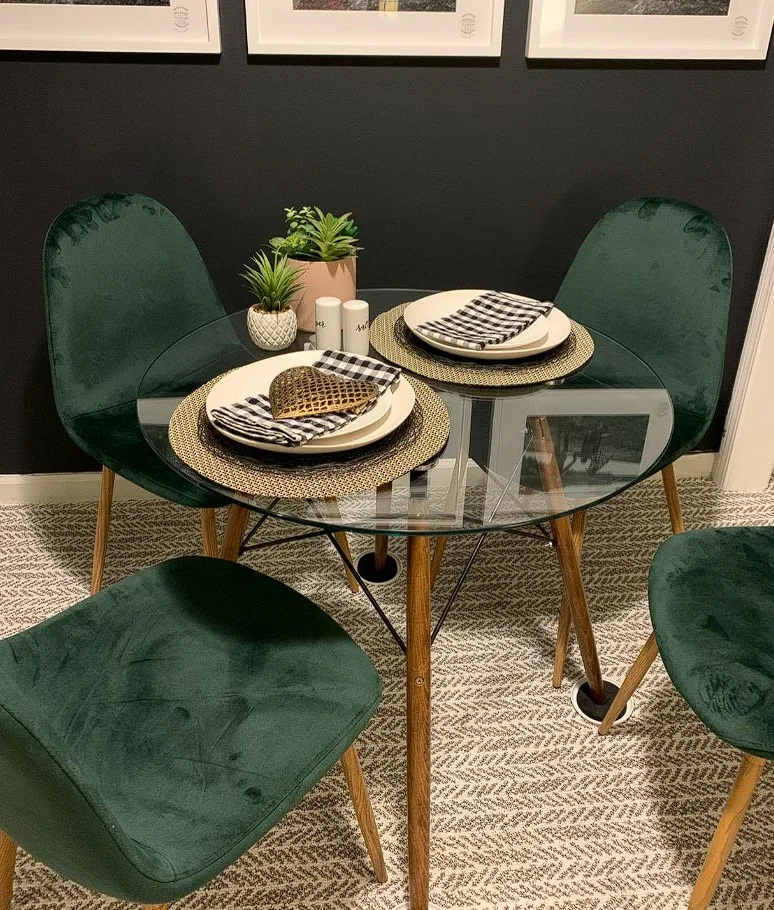 Practical Considerations When Choosing a Glass Top Table
Selecting the right glass top table involves practical considerations. As for the table size and room dimensions, always measure your dining space to ensure the table fits comfortably and allows for adequate room to move around. Consider the design of the table base or legs, as they contribute to the overall look and functionality. Think about the number of seats you'll need and the arrangement that suits your lifestyle best. Ensure that the glass is tempered for safety and consider the base's stability for long-lasting use.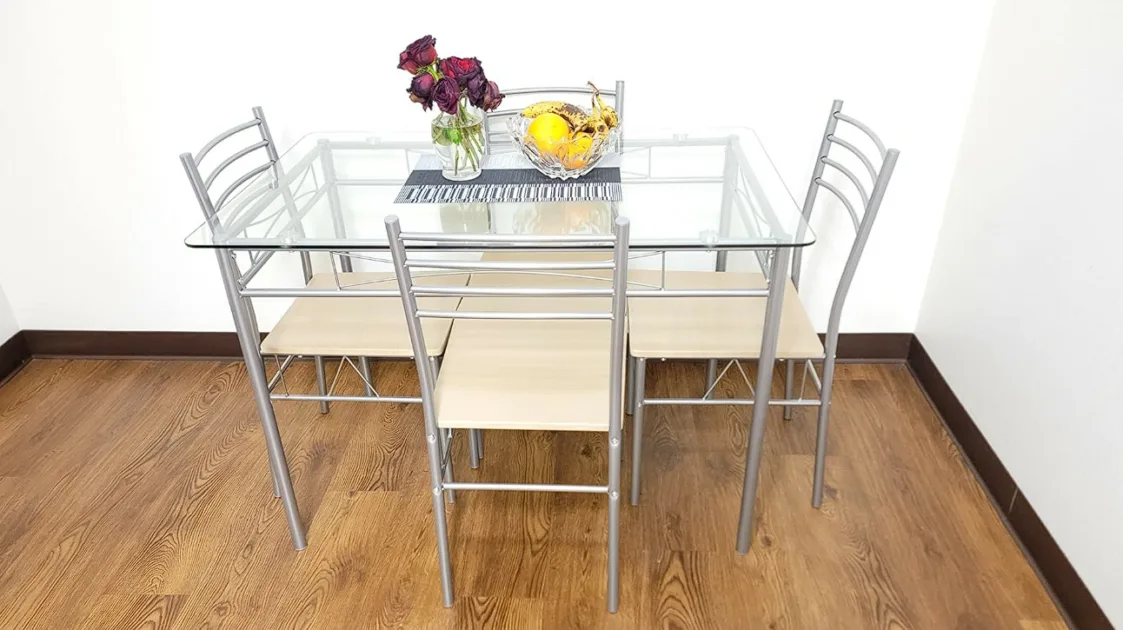 Styling and Decorating with Glass Tops
Now, let's talk style! Dressing your glass top dining table can be a delightful creative process. Imagine the elegance of a minimalist table setting with crystal glassware, or a rustic charm with earthy ceramics. Try crisp white linens for a timeless look, or experiment with vibrant colors for a modern twist. Incorporate crystal vases, succulent gardens, or exquisite sculptures – they all shine under the glass. Play with lighting, like pendant lamps, to add drama. Reflect the beauty below with mirrored sideboards or go bold with contrasting textures.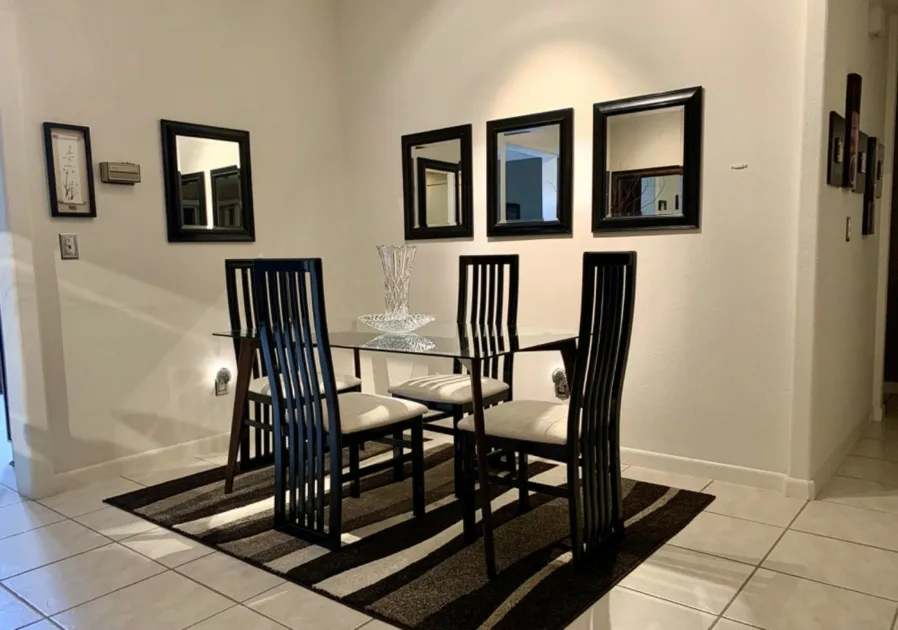 Budget Considerations
Glass top dinner tables offer a spectrum of possibilities. On one end, you have affordable, yet stylish options that cater to budget-conscious shoppers. At the other end, you'll find premium, high-end designs that redefine luxury. In between, a vast array of choices awaits, providing options for every pocket and preference.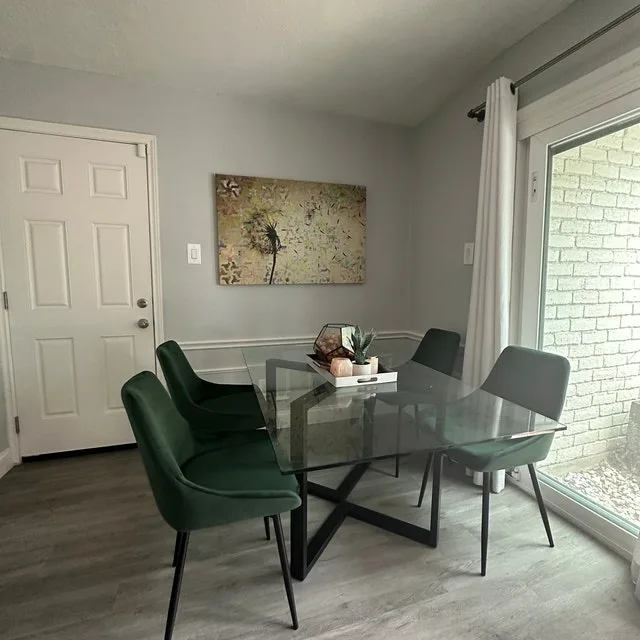 While quality tables may come with a higher price tag, they are an investment in both style and durability that can last for years. However, there are ways to find budget-friendly options without compromising on quality, such as considering second-hand or hunt for pre-loved treasures at thrift shops, discount stores, or online marketplaces. Seek out warehouse sales and clearance events and be open to less-known brands; sometimes, hidden gems are waiting to be discovered. A little patience and a keen eye can unveil affordable options that still exude quality and style.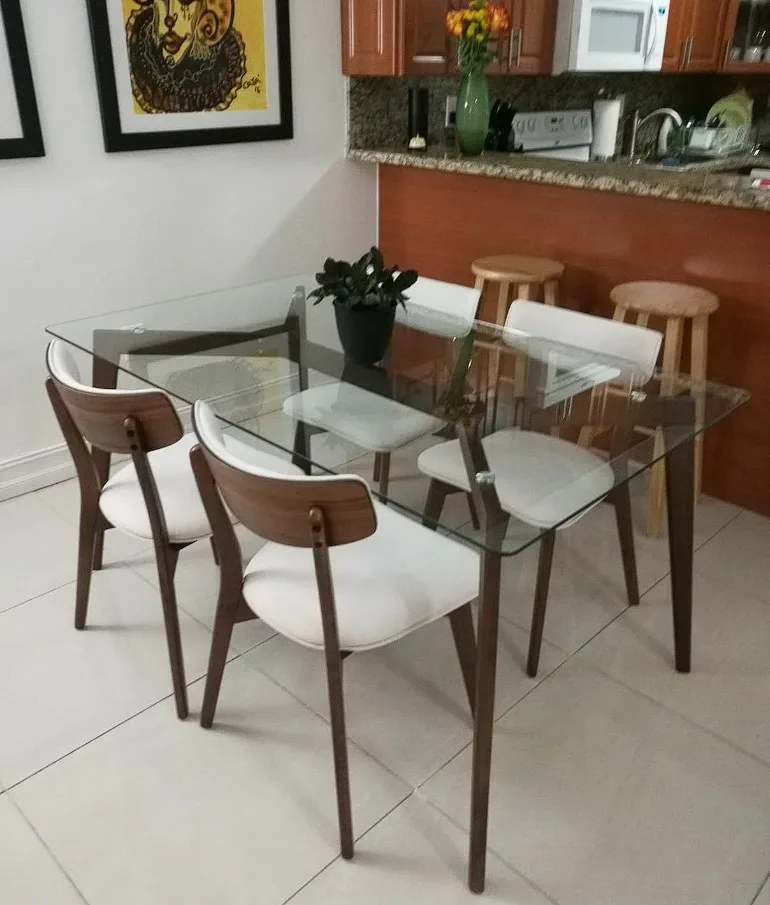 Finally
As our journey through the world of glass top dinner tables concludes, remember that choosing one is a canvas for self-expression. You can customize, style, and find options to suit your budget. So, embrace the beauty of transparency, dine with elegance, and make your dining area an expression of your unique style.
Now it's your turn to find glass top dining tables that resonate with your personal style. With its timeless elegance and versatility, it's sure to become the centerpiece of countless memorable gatherings. Explore, choose, and bring a touch of sophistication to your dining space with a glass top table that makes every meal an occasion.