If your goal is to dazzle your guests and give them an exceptional dining experience, knowing how to properly set a table for dinner is a must! Not only does it elevate the ambiance of your meal, but it also sets the tone for the evening ahead. Over the course of this discussion, we'll explore the importance of table setting for a great dining experience and provide you with tips and tricks on table setting etiquette, dinner table decor, and table setting inspiration. If you're a seasoned host or new to entertaining, this guide will assist you in setting an impeccable dinner table that will be the talk of the night!
Basic Elements of Setting a Table
Setting the perfect dinner table is easy with a little guidance! To get started, make sure you have the basic elements: placemats, plates, utensils, glasses, and napkins. But don't stop there – make sure you're selecting the right dinnerware, flatware, and glassware for your table. Match your placemats or tablecloth with the motif and style of your table arrangement, consider the size and shape of your plates, and organize utensils in the order they will be used, from the outside. When it comes to glass vessels, choose the appropriate glasses for the drinks being served and place them in the correct position. Napkins can also add a touch of elegance when folded creatively.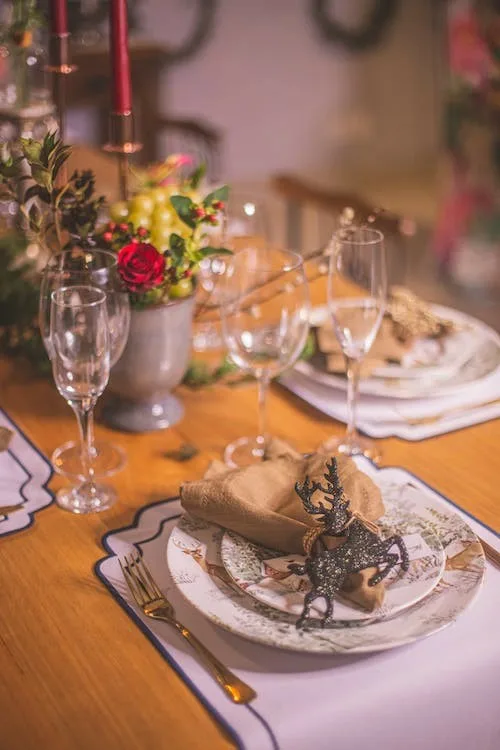 You can create a beautiful and functional table arrangement by learning the basic elements of setting a table. Don't forget to have fun and experiment with different designs and color schemes to find what works best for you!
Formal vs. Casual Dining
Dinner party coming up? Not sure if you know how to properly set a table for dinner gatherings? Don't know whether to go with a formal or casual table setting? No problem! There's no right or wrong way when it comes to structuring a table, and you can customize your arrangement to suit your needs.
For formal occasions like weddings or holidays, go all out with an elegant and eye-catching centerpiece and white or cream-colored tablecloth. Arrange the glassware in order of use and exhibit your attention to detail. On the other hand, for everyday meals with family and friends, a casual table layout will do just fine. Keep it simple with a relaxed centerpiece of fresh flowers or candles, a fun-patterned tablecloth, and less structured flatware and glassware arrangements.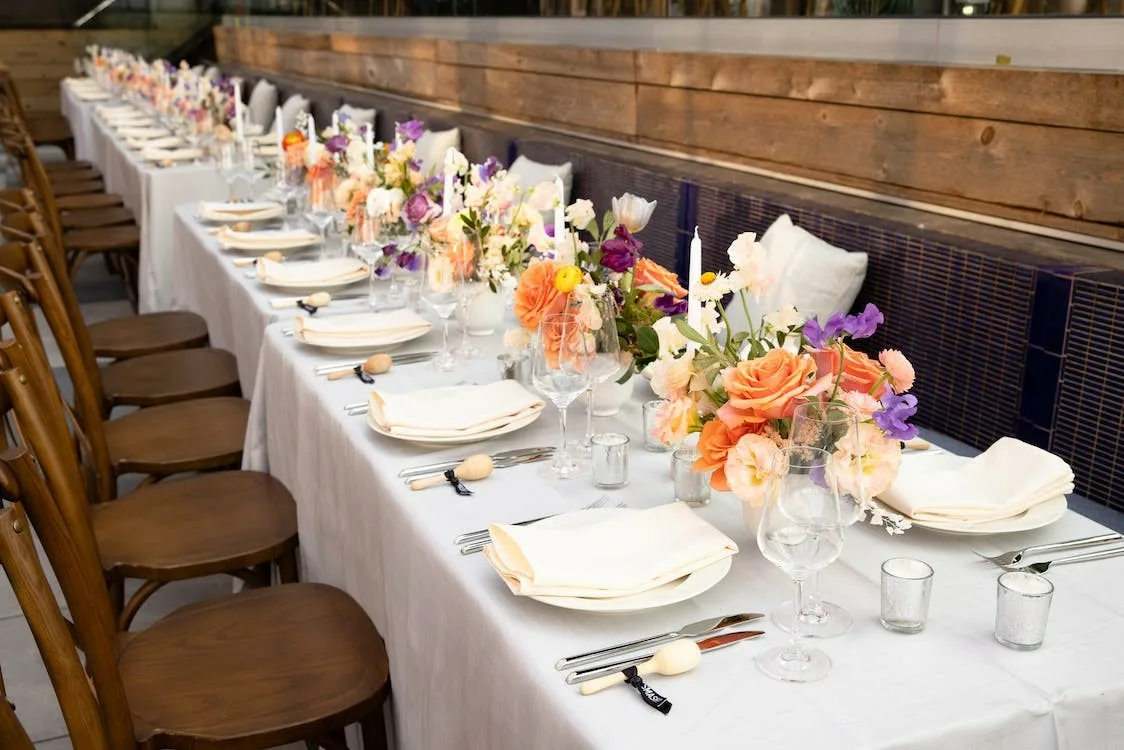 Remember, no matter the purpose, the key is to make your guests feel comfortable and welcome. With a little creativity and some glassware arrangement tips, you can establish a beautiful and functional table setting. So go ahead, enjoy, and arrange that table!
Table-Setting Etiquette
If you're planning a formal dinner party or simply want to show off that you know how to properly set a table for dinner events, knowing the proper table-setting etiquette is essential.
The proper order of utensils, glasses, and napkins is indispensable to table-setting etiquette. Depending on the occasion, each item should be placed in a specific order to ensure a cohesive and visually appealing table setting. The seating arrangement is another vital part of table-setting etiquette. It's important to ensure that attendees are satisfied and can have enjoyable conversations with each other. Lastly, proper table manners are necessary for creating a pleasant dining experience for everyone at the table.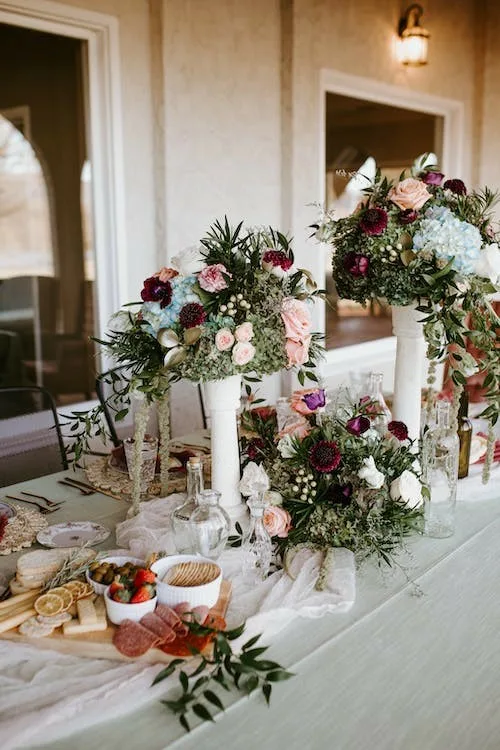 Prepare the table confidently and take pleasure in the evening with these table-setting guidelines that will surely shape up a wonderful atmosphere for your and your visitors.
Table Décor
We all know that hosting a dinner party can be a lot of work, but seeing the people you invited enjoying themselves is worth it. A crucial part of the party planning process is making sure that your table looks inviting and attractive
The perfect table decor can make all the difference in organizing the mood for your dinner party. Centerpieces are a fantastic option that can add elegance and color to your table. Be sure to consider the size and shape of your table when selecting your centerpiece and think about fresh flowers, fruits, or greenery to add a dash of life to your table. Candles are also a popular choice to forge a warm and cozy vibe, just make sure they're unscented so they don't clash with the delicious smell of your food.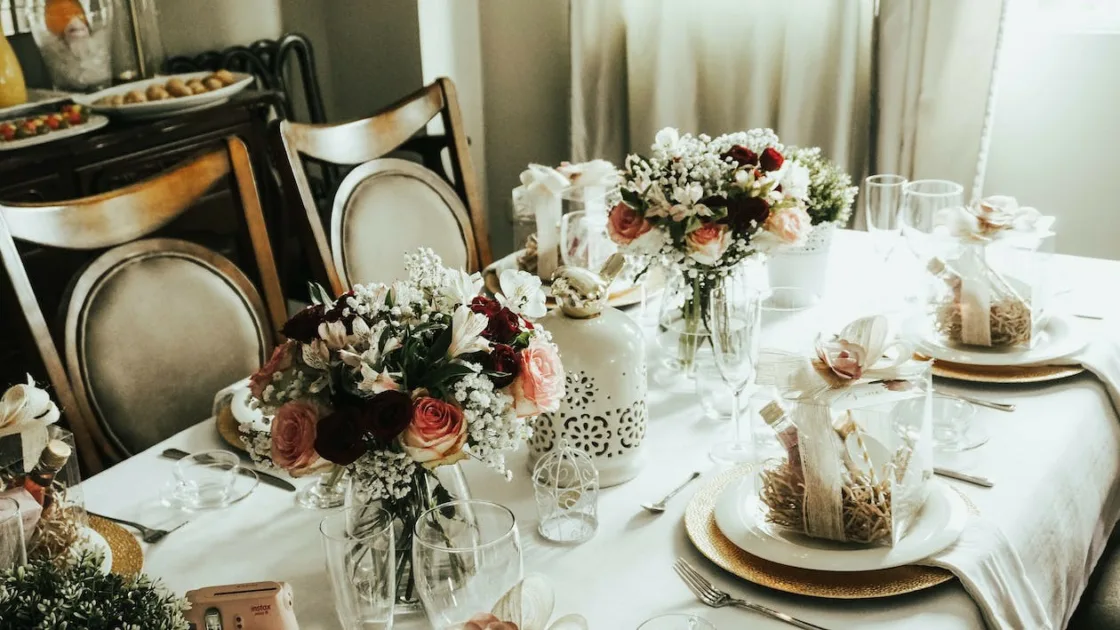 In addition to centerpieces and candles, place cards, unique napkin rings, elegant table runners, and small favors are all fun and creative ways to add a personal touch to your table. Remember to choose decor that complements your table arrangement and matches the style of your party.
That's the gist of it! We've covered everything you need to know about how to properly set a table for dinner parties. From the basic elements of table setting to the proper etiquette for formal and casual dining, we've provided tips to help you create an unforgettable and delightful dining experience for everyone invited.
Conclusion
Keep in mind that table decor is a crucial component of setting the tone and ambiance of your event. The importance of table setting should never be overlooked when hosting a dinner party or special occasion. Take the time to set the table perfectly and you'll be rewarded with a fantastic moment!