In the world of interior design, where creativity and aesthetics converge to transform spaces into something extraordinary, there's a captivating concept that we often find ourselves drawn to – black and white dining rooms. The yin and yang of colors, shapes, and textures is a philosophy rooted in balance, harmony, and the interplay of opposing forces. Now, imagine taking this profound concept and weaving it into the very heart of your home, your dining room.
Enter the timeless elegance of black and white interiors, where monochromatic magic and the yin and yang of design merge to create a dining space that is both striking and harmonious.
The Yin & Yang of Dining: The Power of Contrast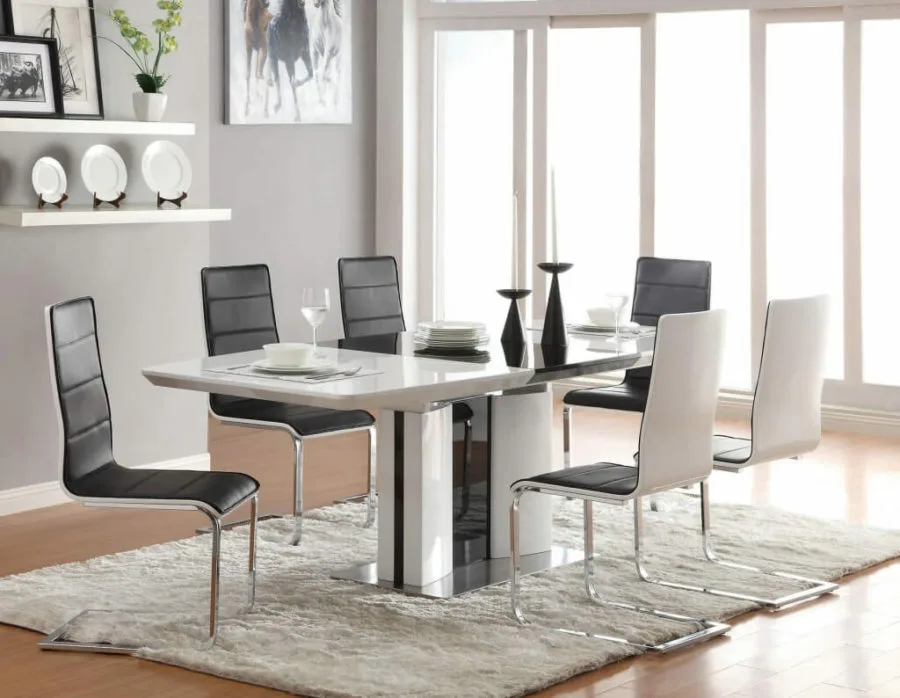 Contrast is the secret ingredient that makes your dining space pop. Black and white, with their stark and unmistakable differences, are masters of contrast. The interplay of light and dark, shadow and shine, can transform your dining room into a canvas of visual intrigue, and the very essence of yin and yang is encapsulated in this dynamic pairing.
Black and white dining room tables
Picture a white dining table against ebony chairs, or perhaps, an ivory China cabinet nestled against jet-black walls. The possibilities are endless, and the drama is awe-inspiring.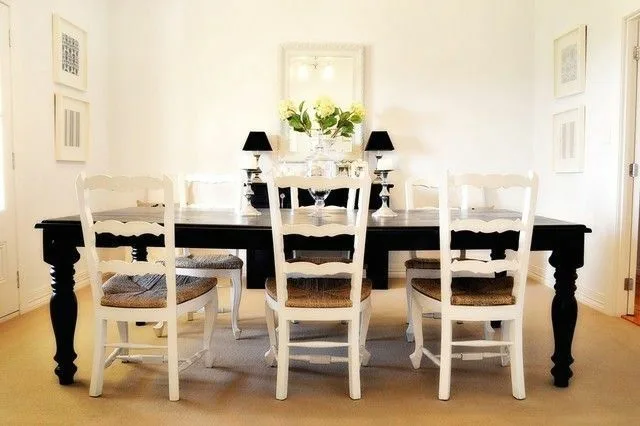 Choosing the Right Color Ratio
Creating harmony with black and white is an art that hinges on balance. Too much of either can disrupt the equilibrium you seek. As you embark on your design journey, consider the golden rule: harmony lies in the right balance of elements. Imagine a white canvas with carefully placed black brushstrokes; now envision the reverse.
Black and white dinner table setting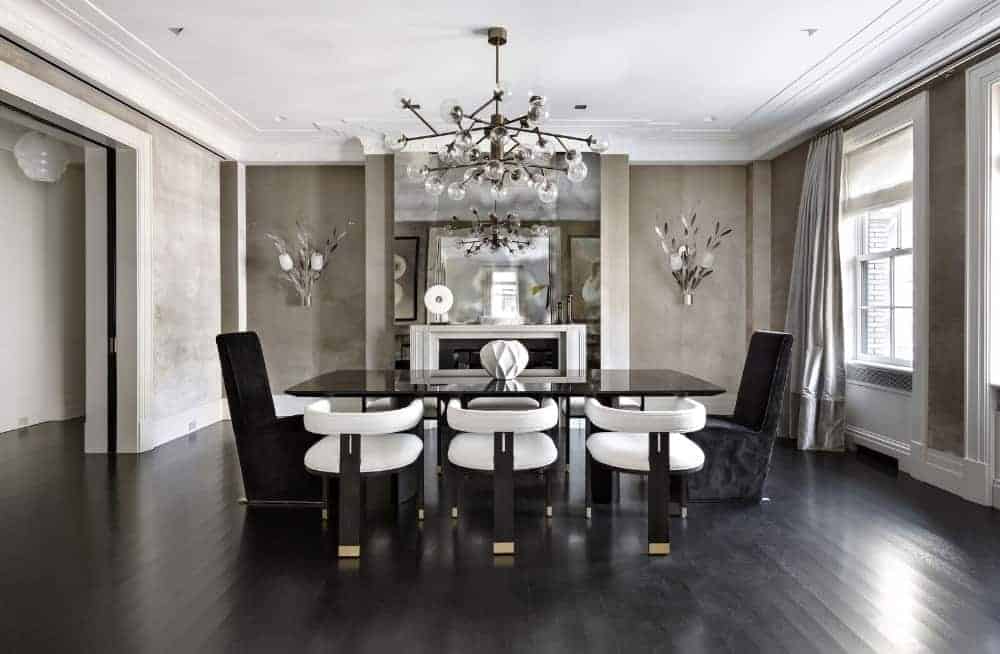 Experimentation is the name of the game and achieving the perfect color ratio is akin to painting a masterpiece. Aim for a work of art, not a debacle, and your dining room will thank you.
The Psychology of Colors
Black and white transcend the boundaries of mere colors. They carry with them profound symbolism and emotional resonance. White embodies purity, simplicity, and serenity. Black, on the other hand, exudes sophistication, mystery, and drama. Together, these contrasting shades create a harmonious atmosphere that can influence the mood and appetite of your dining space.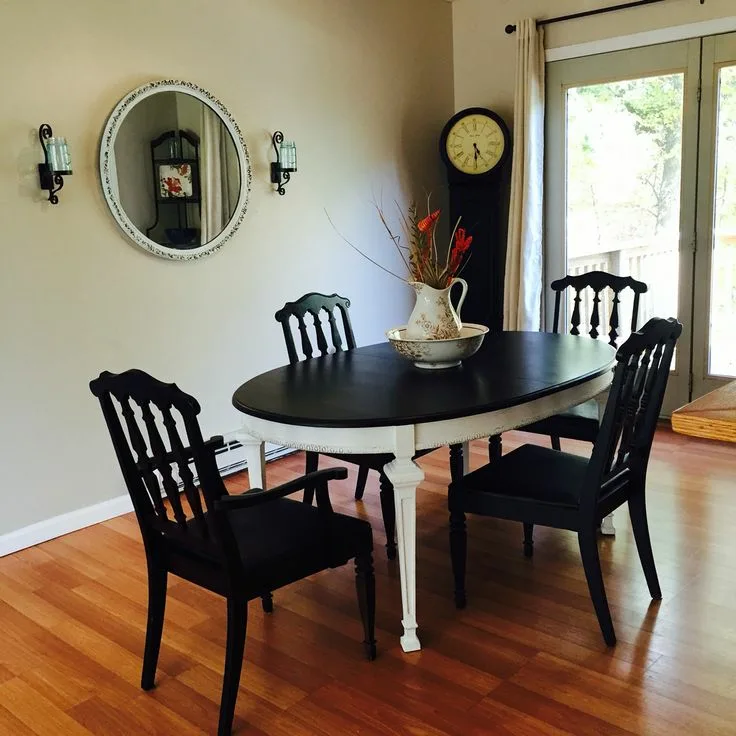 Black and white kitchen table set
White brings a sense of calm, and black infuses excitement and boldness, making your dining room an ideal setting for both lively gatherings and tranquil moments of reflection. Harnessing these psychological influences can make your dining experience truly remarkable.
Yin and Yang in Dining Furniture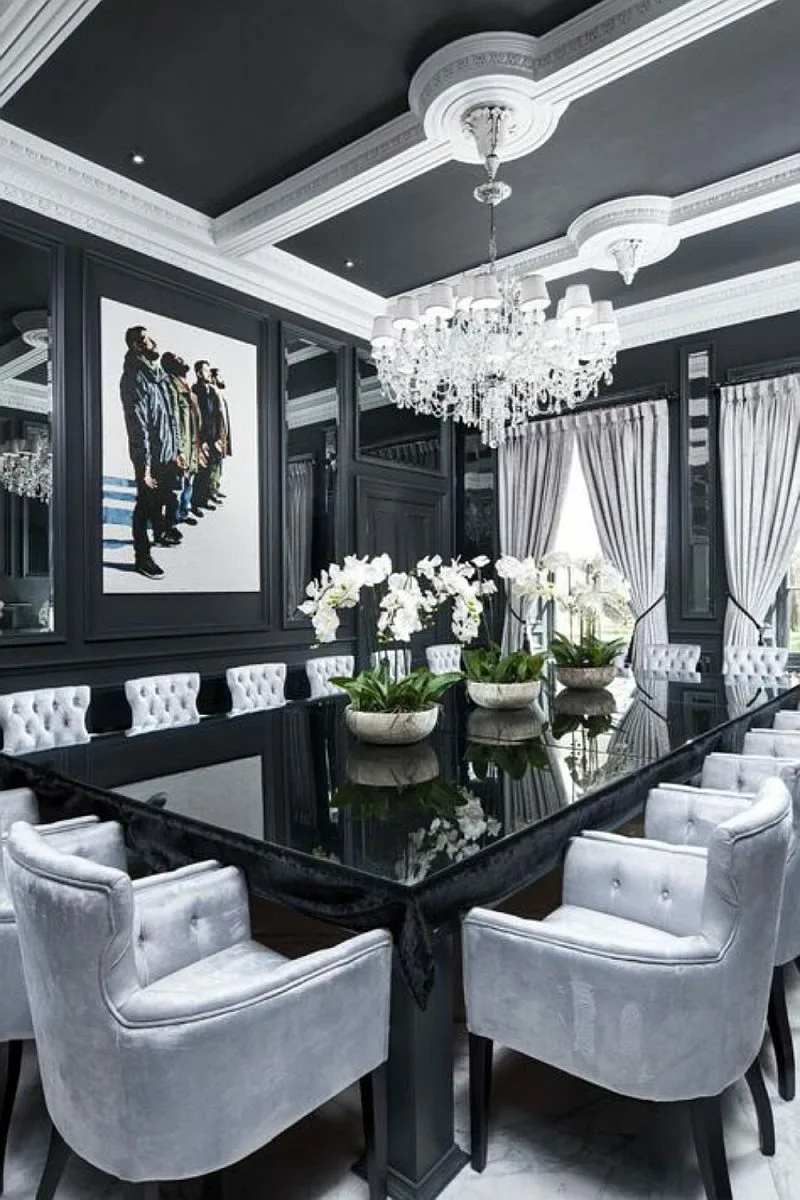 In the world of dining room furniture, the yin and yang of black and white are evident in every piece you choose. The "yin" elements, white interior, characterized by softness and tranquility, are embodied in the serenity of white furniture. Think white dining chairs and a table, evoking a sense of calm. They bathe your dining space in elegance and airiness.
Black and white wood dining table
Conversely, the "yang" elements of black dining furniture introduce a sense of boldness, drama, and strength. Black chairs or a sleek dining table can be the focal point of the room, exuding confidence and a dash of mystique. When combining these elements, remember that shades matter – soft grays, warm ivories, and cool charcoals all have their unique roles to play.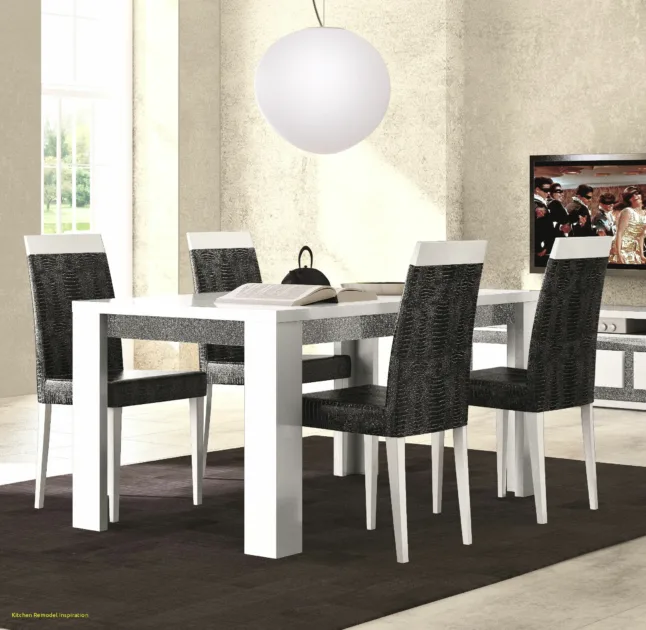 Select the right tones of black and white that resonate with your vision. It's the little details that make a monumental difference.
Achieving Harmony
Achieving harmony in your black and white dining rooms is not solely about the colors—it's a symphony of details. To truly balance the yin and yang, consider how accessories, lighting, and textiles contribute. Crystal chandeliers or metallic accents can add a touch of luxury, while carefully chosen textiles like monochrome table linens and black and white wall art can complete the picture.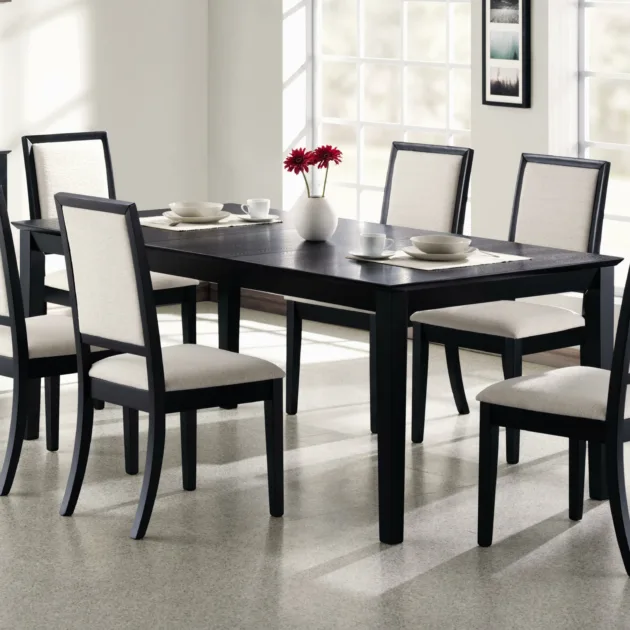 Furthermore, a white pendant light can cast an enchanting glow, while black accent pillows bring depth and contrast to your seating. Let your creativity flow as you experiment with diverse textures, patterns, and finishes to achieve the desired balance. The beauty of black and white lies in their versatility; they can make your room feel spacious and open, even in the coziest of spaces.
Tips for DIY Design
For the daring DIY enthusiast, achieving a harmonious black and white dining room is within reach. Embrace the challenge and unleash your creative prowess. You don't need a professional interior designer to infuse your dining room with the enchantment of black and white furniture. Seek out budget-friendly options, scour antique stores for hidden gems, or embark on DIY projects that bring your personal touch to the fore.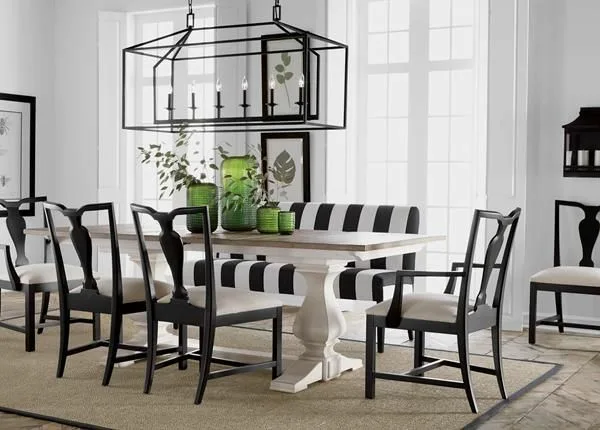 Black and white dining tables
Consider painting a feature wall with striking black and white stripes, crafting your own artwork, or upcycling existing furniture to match your desired color scheme. Embrace your inner artist and create a space that speaks to your unique style to craft a dining space that is uniquely yours.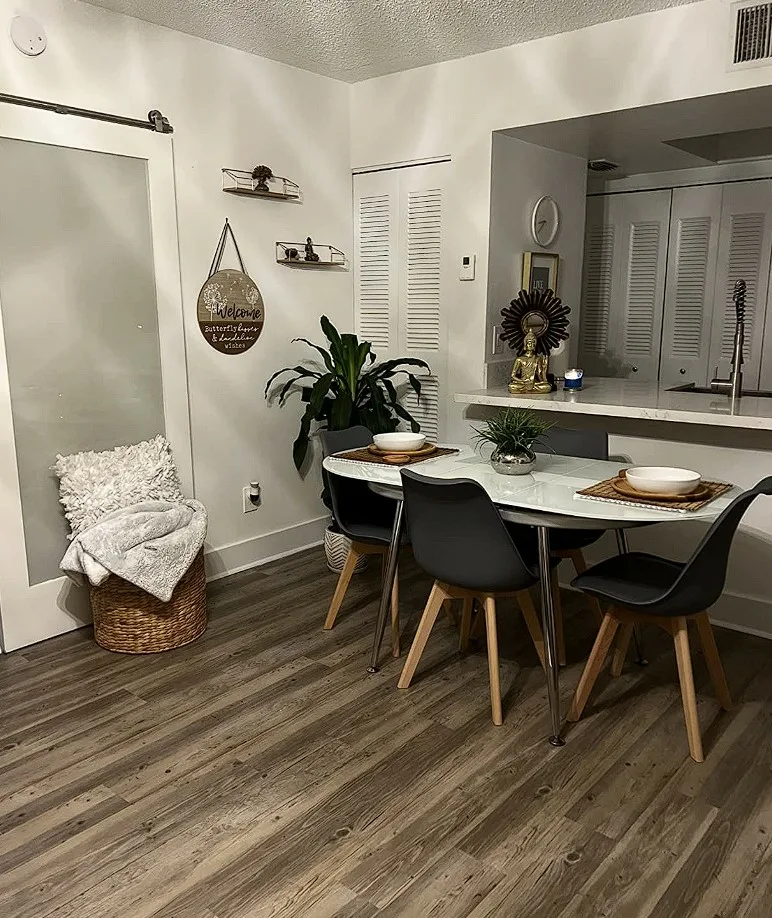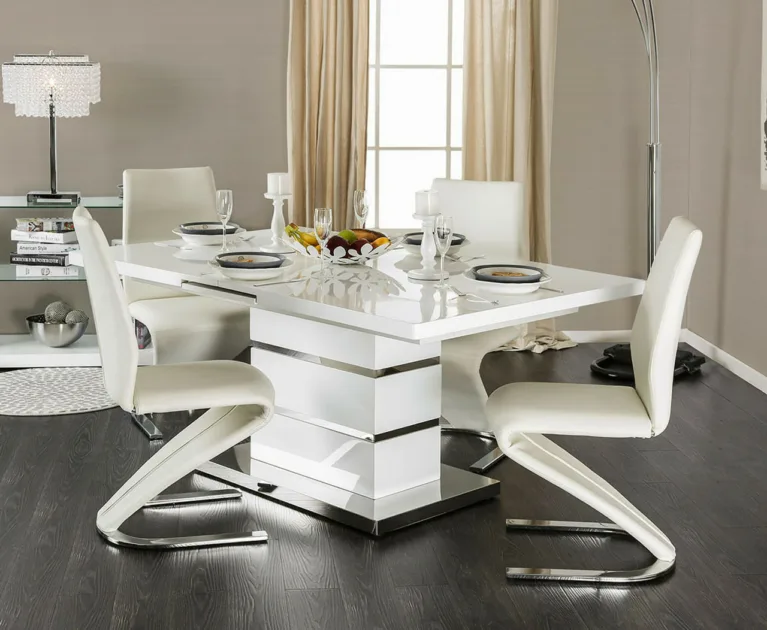 Finally
Ultimately, black and white dining rooms stand as timeless testaments to the enduring appeal of monochrome decor. The yin and yang of dining in black and white is a design journey filled with excitement, elegance, and a touch of the unexpected. It's about finding the balance that resonates with your personality and lifestyle. So, take the leap, experiment, and don't be afraid to let your dining room reflect your individual style. In the world of design, there are no rigid rules—only opportunities to create something beautiful. So, why not make your dining room your canvas and explore the timeless allure of black and white? It's a captivating journey, and it's yours for the taking.